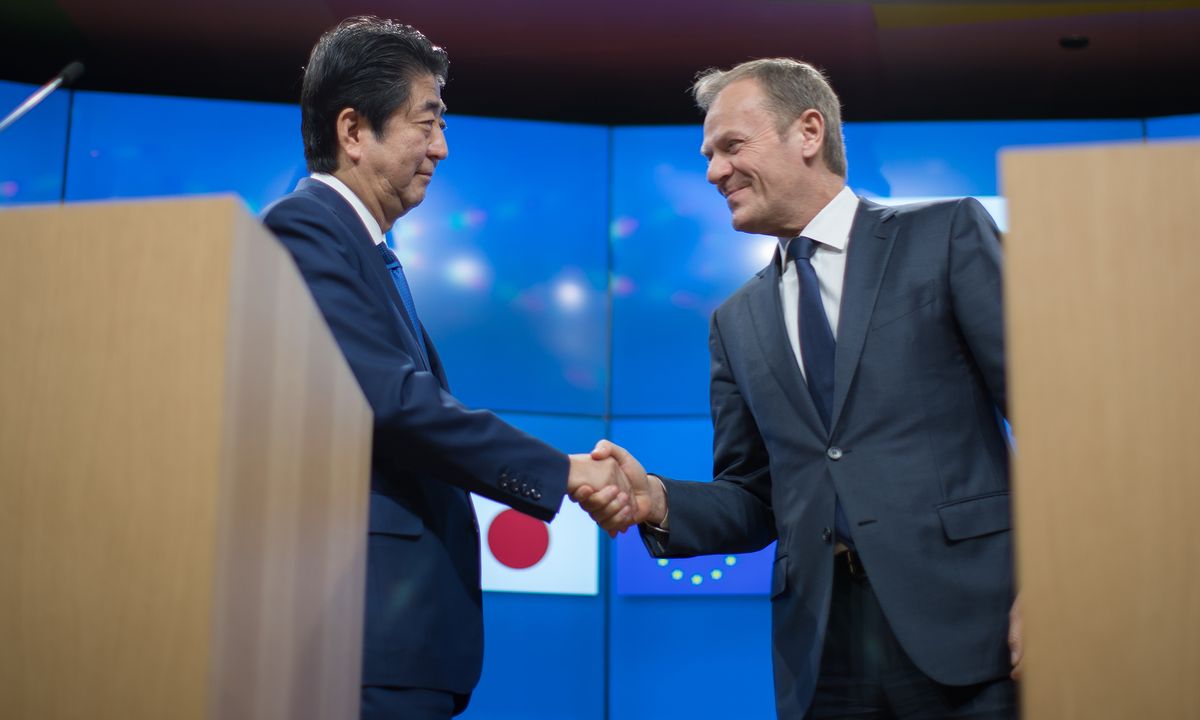 The European Union and Japan signaled stepped-up efforts to reach a free-trade agreement, seeking to counter U.S. President Donald Trump's protectionist tilt.
At a press conference in Brussels on Tuesday, EU President Donald Tusk said the 28-nation bloc is "fully committed" to wrapping up four years of negotiations with Japan "very soon" and Japanese Prime Minister Shinzo Abe urged both sides to "show to the world the flag of free trade as a model."
Jean-Claude Juncker, president of the European Commission, the EU's trade negotiator, said he was "very confident" of a "swift agreement this year." He declined to be more precise about the timing of any breakthrough.
"Our negotiations with Japan are now in a decisive and hopefully final stage," Juncker said alongside Tusk and Abe before a meeting among the three of them. "This agreement is necessary. It is necessary because we believe in free, fair and rules-based trade."
Japan, the EU's No. 2 Asian trade partner behind China, has signaled greater openness to a commercial deal with Europe since Trump withdrew U.S. support for the Trans-Pacific Partnership. The planned TPP covered 12 nations including Japan.
"We shall try to aim for agreement in principle" with the EU "at the earliest possible date because it will show the symbol of free trade to the world," Abe said on Tuesday through an interpreter.
The EU has insisted that Japan remove tariffs on European foods such as chocolate, pasta, tomato paste and cheese, scale back non-tariff barriers for cars and open up public procurement in the rail industry.
Farm Goods
In exchange, the bloc has been prepared to phase out its 10 percent tariff on autos from Japan and ease access to Europe for Japanese executives. The EU has also said it would refrain from demanding duty-free access to the Japanese market for "sensitive" farm goods such as rice, beef and pork.
"As often in a negotiation, the few remaining issues are the most difficult to solve," Juncker said. "This agreement will give Japan and the European Union the best of both worlds. It opens up a major new market to each other."
EU-Japan trade in goods was worth 124.5 billion euros ($134.5 billion) last year, according to the Brussels-based commission.
Japanese exports to the EU in 2016 totaled 66.4 billion euros, driven by machinery and appliances that accounted for more than 40 percent, while the bloc's shipments to Japan amounted to 58.1 billion euros, of which chemicals and "allied" products had the biggest share at almost a quarter, according to the commission.
After escorting Abe out of the EU building following the meeting, Tusk told Bloomberg News that "we are really satisfied" with how the discussion went.