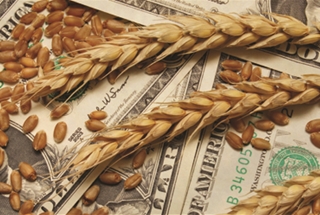 The European Union raised its outlook for soft wheat exports to a record, as the euro's slide against the dollar makes the crop cheaper for overseas buyers.
The 28-nation bloc may export 30 million metric tons of soft wheat in the year through June, similar to the 29.99 million tons shipped last season, based on updated balance sheets published online by the European Commission. The outlook was raised by 2 million tons from a month ago.
EU export licenses for soft wheat for the season that started July 1 stood at 12.02 million tons as of Nov. 25 compared with 11.2 million tons at the same time last year, according to data from the bloc. France or Romania have won business in every tender by Egypt, the world's biggest wheat importer, since the country last bought U.S. grain on Sept. 22.
"We're nearly 1 million tons ahead of last year, and almost halfway through the campaign," Sebastien Poncelet, a consultant at Paris-based farm adviser Agritel, said by phone. "It's certainly ambitious. The euro is a big push in the back."
The euro has declined 8.8 percent against the U.S. dollar since the July 1 start of the crop year.
EU exports of durum wheat, the harder variety used to make pasta and couscous, was maintained at 1 million tons, from 1.1 million tons last year.
The forecasts are above a U.S. government outlook for EU all-wheat shipments of 28 million tons, while the International Grains Council estimates 28.3 million tons.
The EU is exporting more as wheat sellers in Russia and Ukraine hold on to supplies, reluctant to part with grain as the ruble and the hryvnia plunge, according to Poncelet. The ruble has dropped more than 30 percent against the dollar in the past five months.
"The northern European countries are benefiting, Germany and Poland, also Romania is well placed," Poncelet said. "It may benefit French exports once our northern neighbors have exhausted their available supplies."
The EU today cut its estimate for soft-wheat inventories at the end of June to 13.7 million tons from 15.41 million tons, still up from 8.24 million tons at the end of the last season on a bigger domestic crop.