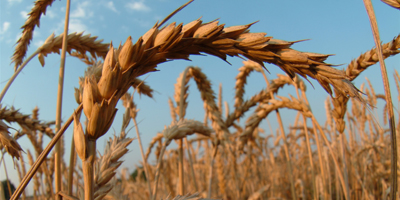 Euronext will consider adding quality specifications to its milling wheat contract in Paris after the silos that manage futures delivery points set grain standards, said Olivier Raevel, head of commodities at the exchange.
The exchange may meet next month with market operators to talk about contract changes, Raevel said by phone today from Paris. A date hasn't been set for the talks. Potential changes would apply to exchange contracts listed after May 2017. The two silo companies in the French port of Rouen, Senalia and Soufflet Group's Socomac, both said this week that wheat should meet minimum requirements for protein levels and the Hagberg falling number, which indicates baking quality.
"It's the appropriate time to discuss with the industry if those specifications should not be repatriated directly into the definition of the contract itself," Raevel said. The meeting will be "a broad consultation of domestic market operators and international market operators."
France, the European Union's biggest wheat grower, received twice the normal amount of rain on average in July, according to weather office Meteo-France. Excess rain during harvest time means less grain will be milling quality and more will be graded for livestock feed, said Caroline Bitton, an analyst at Paris-based farm adviser Agritel.
Senalia said in June that it would set requirements on wheat quality including minimum protein levels at 10.5 percent and a base Hagberg falling number at 220 with a tolerance to 170. The silo operator reiterated those standards in a statement yesterday and said they'd apply to crops received this season and in the next two marketing years. Socomac said it would match those conditions for the 2014-15 season.
Euronext Contracts
Senalia's requirements will encompass all the contracts currently listed on Euronext, Raevel said. Rouen is Europe's largest wheat-shipping hub and accounted for 38 percent of all French grain exports in the 2012-13 season. The exchange plans to add a delivery point in Dunkirk, France, in September 2015.
France's soft wheat production may rise to 38.16 million metric tons this season, 3.4 percent more than the previous year and the second-highest on record since 1998, Agritel said. About 40 percent of the crop may be feed grade, 30 percent milling wheat and the rest "intermediary" grain that might go for either milling or feed, depending on demand, Bitton said. France's soft wheat harvest was 92 percent complete as of Aug. 4, FranceAgriMer said.
"Quite a big part of our wheat is going to be feed wheat not milling wheat as usual," Bitton said. "Volumes are pretty high, but we have some issues with the quality because we received a lot of rains during July."
Milling Wheat
Combined production of milling wheat in the EU and Ukraine may be as much as 21 million tons smaller than last year because of excess rain in recent weeks, said Benjamin Bodart, a Bartlow, England-based managing director at ODA U.K., a unit of French farm adviser Offre et Demande Agricole. In Germany, the EU's second-biggest producer, crop quality may be "much lower" than last year, ADM Germany GmbH said July 31.
"The feedback we are having from market operators is that it seems to be an extremely challenging crop from a standpoint of quality this year," Euronext's Raevel said. "It's been a very wet summer altogether in France."