African swine fever (ASF) has caused an estimated 25% decline in the global hog herd. Yet, the world remains cautiously optimistic about the potential market demand for pork, says Christine McCracken, Rabobank senior analyst – animal protein.
"The allure of potential record-breaking exports has, thus far, been outdone by the risks," she says. "Restrictive trade policies and inconsistent export demand create a degree of uncertainty that makes production increases less compelling."
With the growing threat of ASF and trade disruption, it's no wonder many producers are reluctant to add production. In addition, producers face rising environmental and regulatory challenges that limit growth, McCracken adds. 
How will the world meet the expected 5- to 10-million metric ton global pork deficit in 2020? McCracken says this may give the industry adequate economic incentive to grow supply. But who's in the best position to meet the need?
•    China
China's ability to replace lost production will be limited in the short-run. She says China's efforts to replace lost production have been met with limited success and without a vaccine, it will be hard to quickly replace the 55% loss of its herd to ASF. This holds true for other Asian countries fighting ASF now. 
Even so, Chinese pork producers are working toward expanding production, implementing stricter biosecurity controls. If the large commercial operations can repopulate successfully in 2020, McCracken says it could help stabilize market losses. But a full recovery will take a few years. Rabobank expects a rebound in production beginning in 2021.
•    United States
U.S. producers are cautious on the outlook for export-led growth, McCracken says. Record production, combined with unpredictable trade access, are yielding disappointing market returns. With current production levels already straining the available labor supply, particularly at the packer level, there are constraints on the industry's ability to expand the sow herd beyond 3% in the year ahead. 
"Even so, assuming market access to China can be restored and economic incentives are in place, producers will again push for growth," McCracken says. She expects given the current labor challenges that future growth will likely come in heavier weights and not additional head.
•    European Union
The fear of ASF spreading in Europe is holding back new production. In addition, regulatory restrictions are on the rise, also constraining growth. 
"We have seen some pockets of production growth on the continent in 2019, specifically Spain but the total increase will be marginal," McCracken says. "For 2020, Rabobank is forecasting just over 1% pork production growth in the EU."
•    Canada
Canada's hog herd has seen limited growth as poor returns and regulation have slowed down growth. A recent PEDv outbreak combined with a recently lifted four-month ban on pork shipments to China leads Rabobank to expect little to no growth in the Canadian herd in 2020.
"The risk to Canada is that they remain exposed to exports (~65% of sales) and if there were any disease-related disruption, their industry would have a very difficult time absorbing the excess supply," McCracken adds. "However, resuming trade with China is clearly a huge win for them and will boost returns for packers and producers alike."
•    Latin America
Latin America has room to expand, she says. Brazil, Chile and Mexico are well positioned to add production with no immediate threat of ASF and relatively few restrictions on trade. Rabobank says Brazil is the best suited and should increase production by 4% in 2020.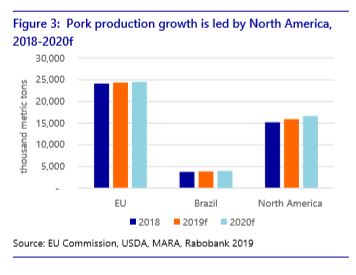 The U.S. and Brazil are expected to be the leading regions of production growth in 2020. 
 
More from Farm Journal's PORK:
Canada Resumes Pork and Beef Shipments to China
USMEF Forecasts 13% Pork Export Growth in 2020
China's Growing Need for Protein: New Study Excites U.S. Pig Farmers
September Pork Exports Higher Year-over-Year, Down from Summer Pace