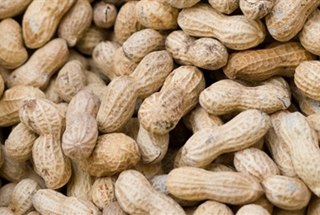 Get ready to see peanut butter in a lot more places.
The humble spread, found in lunch-box sandwiches across America, is suddenly a favorite of restaurants and packaged-food companies -- thanks largely to falling prices. With the cost of meat and dairy climbing, peanut butter is increasingly seen as a cheap way to supply protein. That's led to a new generation of products and helped pad profit margins for manufacturers.
JM Smucker Co. and Hormel Foods Corp. have found a growing market in single-serving packets of the spread, while restaurant chains such as Chili's and Five Guys Burgers & Fries are trying it in new desserts. Some companies are getting more adventurous, with one Manhattan sandwich shop selling a maple peanut butter and bacon sandwich.
"We've seen a slow gravitation toward nut butters in general -- peanut butter being one of the biggest," said Darren Seifer, food and beverage industry analyst at NPD Group in New York. "It's not just for a PB&J sandwich anymore."
With meat prices near records and popular diets pushing increased protein consumption, about 15 percent of Americans now say they're willing to turn to sources such as soy, nuts and dairy, he said.
U.S. peanut production surged to a record 6.76 billion pounds in 2012, creating an oversupply that persisted even as output came back to earth at 4.17 billion pounds last year, according to the U.S. Department of Agriculture. The USDA forecasts the harvest will jump 19 percent to 4.97 billion pounds this year.
Bumper Crops
Part of the reason for the bumper crops is a new variety of peanut, the Georgia 06G, that is more disease-resistant and better yielding, said Bob Parker, president of the National Peanut Board in Atlanta. While U.S. harvests averaged about 3,000 pounds an acre 10 years ago, last year's crop was more than 4,000 pounds an acre, he said.
Prices for the creamy spread dropped for five straight months through July, when they reached the lowest level since 2011. Creamy peanut butter was about $2.42 a pound in August, 11 percent cheaper than a year earlier, Bureau of Labor Statistics data show.
Meanwhile, cattle futures rose to a record high on Sept. 10, and wholesale beef prices have climbed about 19 percent this year, government data show. Hog futures have jumped about 11 percent in 2014 after a virus started killing piglets last year.
Allergy Concerns
In pushing peanut butter into more foods, the industry may have to confront concerns about allergies. Peanuts are one of eight foods that account for about 90 percent of food allergic reactions, according to the U.S. Food and Drug Administration. And some districts ban peanut products from school grounds to project children, who are more likely to suffer the allergy.
Still, the National Peanut Board estimates that about 94 percent of U.S. households regularly eat peanut butter.
The food has grown increasingly popular over the past century. John Harvey Kellogg, the medical doctor who helped start the company that would become cereal maker Kellogg Co., invented a version of peanut butter in the late 1800s, according to the organization. The U.S. Army brought the peanut-butter- and-jelly sandwich mainstream after using it for sustenance during World War II.
The U.S. peanut-butter-making industry generated about $1.53 billion last year, according to IBISWorld Inc. Sales gained after producers raised prices in 2011 due to a drought in some southern U.S. growing states. They're expected to gain about 4 percent this year after rising 2.3 percent in 2013.
To-Go Dippers
In August, Smucker introduced Jif To-Go Dippers, 250- calorie packs of the nut butter in regular and chocolate flavors with pretzels. Profit in its U.S. consumer-foods segment increased 19 percent in the three months ended July 31, helped by lower commodity costs, including for peanut butter.
"It's still one of the cheapest proteins," Paul Smucker Wagstaff, president of U.S. retail for the Orrville, Ohio-based company, said on an earnings call in August. With recent meat price increases,"we feel good about where the peanut butter is going to play."
Hormel, the biggest U.S. peanut-butter maker after Smucker, started selling individual Skippy packets this year and plans to introduce more flavors of the brand. The company's natural, dark-chocolate variety is selling well, said Michael J. Guanella, senior product manager of grocery products.
Skippy Commercials
The company's peanut butter category has seen price decreases and sales volume gains. That's allowing it to invest more in developing new items and a Skippy television and digital ad campaign this fall -- the first major advertising for the brand since 2005.
More people are using peanut butter at breakfast and for snacks, Guanella said.
"Consumers are also paying close attention to protein in general, and peanut butter is a convenient, shelf-stable protein," he said.
At the Peanut Butter & Co. sandwich shop in Manhattan, which sells ants on a log and the maple peanut butter and bacon sandwich, customers also are looking for additional protein and savory options, said Lee Zalben, founder and president. The restaurant's spicy peanut butter and grilled chicken sandwich, topped with pineapple jam, has been a hit recently, he said. The shop also offers a grilled peanut butter sandwich with bananas, bacon and honey called "The Elvis."
While the company is seeing higher profit because of the cost decreases this year, it's putting the gains into more frequent retail promotions, sales and coupons. Peanut Butter & Co. sells the spread in flavors such as white chocolate and maple in about 15,000 retail stores, including Kroger Co., Wal- Mart Stores Inc. and Whole Foods Market Inc.
"We're seeing a lot of people who are just really interested in peanut butter," Zalben said.