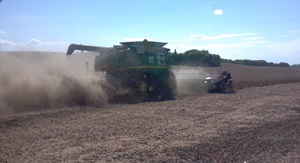 Minnesota farmers and the state's economy could be impacted by a decline in formerly booming farmland prices, according to local economic experts who worry about a possible bubble burst.
The Federal Reserve Bank of Minneapolis found in its most recent quarterly survey that the state's farmland prices are on the decline, Minnesota Public Radio News reported. Joe Mahon, a regional economist at the reserve, said prices per acre are about 4.5 percent less than they were a year ago.
That means the value of Minnesota's farmland, which is about $100 billion, has fallen by $4 billion across the state. Farmland prices had been steadily climbing, more than doubling in value over nearly a decade.
The average price per acre was around $4,800 at the end of last year.
Farmland prices began to fall when the selling price of corn reached unprofitable levels, Mahon said. Corn used to be Minnesota's most valuable crop.
"So we're seeing this environment where the crop prices for corn, soybeans and wheat have all come down over the last year or two," Mahon said. "And that's reflected in lower farm incomes."
The lower incomes are also affecting the price of farmland because fewer farmers can afford to purchase additional acres.
"Farm incomes have come down," Mahon said. "And they're probably going to stay down for a little while."
Others believe farmland prices are stable due to other factors.
Randy Dickhut is vice president of real estate operations at a company that sells Midwestern farmland. He said farmers and landowners have continued to benefit from low interest rates, so they still have profit to invest in land.
Minnesota farmers had previously seen their most profitable years when corn prices were at an all-time high due to demand from the ethanol industry. An analysis of some 1,300 farmers found they made about $250,000 profit on average in 2012.
Since declines in high farmland prices have been relatively minor, it's too soon to tell whether they could amount to an economic bubble. But some farmers, bankers and others in the agricultural industry are worried about a potential price collapse.
Sterling Liddell, senior vice president for food and agribusiness research for Rabobank, said the pace of a price decline is an important indicator. He said a slight decline followed by a steady hold, and then a climb can show a price bubble, which means land is priced too high for what it generates in revenue.