World Dairy Expo, where farmers come to learn, network and enjoy all things dairy, is set for 
Oct. 1-5, 2013
.
German dairyman Johannes Pfaller takes in tours, exhibits and cattle shows, soaking up something new at each.
---
German dairyman Johannes Pfaller first learned about World Dairy Expo while he was working as a student on a 200-cow Virginia dairy in 2001.

"I heard so much about how Expo is where the best dairy farmers gather, about how this is where you can see the very best cattle in the world and about the trade show that has so many different new products and technologies to see," he says.

It took Pfaller, who milks 100 cows on a family dairy farm near Munich, Bavaria, Germany, more than a decade to attend his first Expo. Last year, he traveled with a group of 50 dairy farmers and others from dairy-related businesses in Bavaria to the event. He wasn't disappointed.
"I came because I am a dairy farmer and I want to get better. I wanted to see how the best dairy farmers produce milk and run their farms," Pfaller says.

The chance to see the dairy cattle in the Expo breed shows was a major draw for Pfaller. "In Germany, we think there is a problem in the Holstein breed with the animals becoming too extreme. The udders are getting too big, the feet are not so good and cow longevity is poor," he says.

"At Expo, I had the chance to talk to leading breeders and people in the genetics field to get their thoughts about what can be done to address these issues."

Before arriving at Expo, Pfaller's tour group spent five days visiting dairies in Wisconsin and neighboring states. "I was mostly interested in the different kinds of barns and milking systems that dairy farmers in the U.S. are using, thinking about what might make sense for us when we grow our dairy in the future," he says.

"We were very impressed by some of the cross-ventilated barns we saw. But that is something we won't be thinking about doing for maybe 10 years.

"Then, when we got to Expo, I had the chance to talk to representatives from different companies about some of the things we had seen out on the farms," Pfaller says. "The nice thing about the show is that you have the opportunity to talk to so many people in just one place. I learned so much."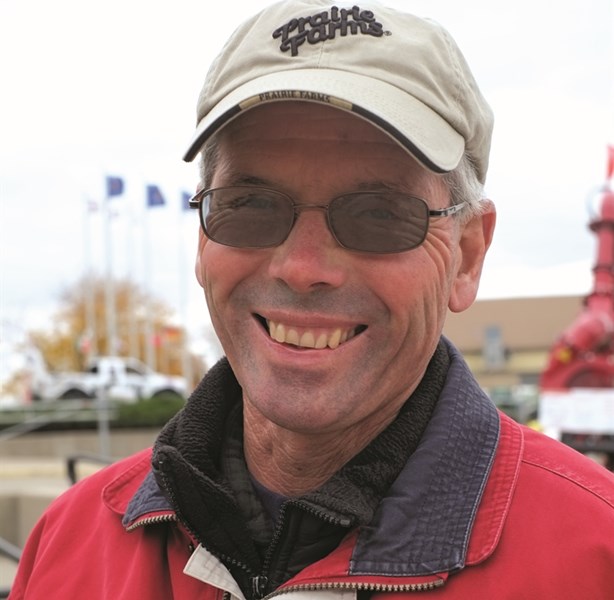 "We don't always have the opportunity to hear from people with this kind of knowledge or expertise firsthand," says Charles Carter from Thorntown, Ind.
---
For Charles Carter of Thorntown, Ind., the trip to World Dairy Expo has been an every-other-year experience for the past two decades. "We enjoy getting up here and seeing what the new things are that we might be able to take home to put to use in our operation," he says.

His farm is roughly a six-hour car ride from Madison, "and we enjoy meeting and talking to people from other places," Carter adds.

Last year, Carter, who milks 120 cows, spent a good deal of his time at Expo visiting the exhibits of companies manufacturing total mixed ration (TMR) equipment. "Down the road, we'll be replacing the one we have," he explains. "Here, we were able to see a lot of the newest models and get lots of information."

He also made the rounds to companies that were exhibiting milking equipment systems. "We milk in a double-six herringbone parlor that's about 35 years old," he says. "We know we're going to need something different in the near future. With so many companies here, it's a good place to do some basic research."

Along the same lines, Carter attended one of Expo's regularly scheduled Virtual Farm Tours featuring a family who utilizes a robotic milking system.

"The first time we had ever seen one close up was at Expo a couple of years ago," he explains. "We were impressed. We haven't put one in place, but we are considering it. It was interesting to hear about their experience with it and what they thought about it."

Carter also attended several of the Expo Seminars, including one that focused on risk management. "The speakers they have here are tops in their field," he says. "In our area, we don't always have the opportunity to hear from people with this kind of knowledge or expertise firsthand."

To round out his time at Expo, Carter made his way to the Coliseum to watch the Holstein show. "I was especially interested in seeing what sires were the ones placing daughters at the top of the different classes," he says. "There are just so many great cattle here. I'm glad I wasn't the one doing the judging."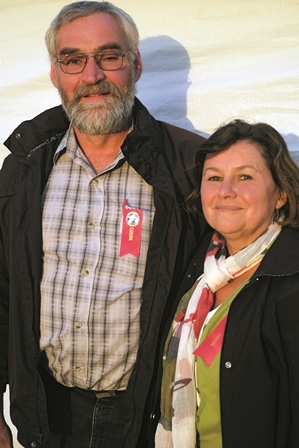 Ken and Janice Dahl, Abbotsford, British Columbia, say there's a social aspect to Expo as well, sharing their passion for cows with other attendees from around the world.
---
Like most Expo attendees, Canadian dairy farmers Ken and Janice Dahl come to the event for business reasons. "We come to see all the great cows and to go to the trade show. You get to see and learn about the latest innovations in the industry. It is very impressive," Ken says.

But there's definitely a social component to the trip for the Dahls, who have now been to Expo twice. Last year, the Dahls, who milk 100 cows near Abbotsford, B.C., traveled as part of a group of 13 dairy farmers from the province. Along with the stop at Expo, the group spent two days visiting Wisconsin dairy farms.

"We got to see some great herds, some great genetics and some great farmers," Ken says.

"It's great fun. There is a tremendous sense of camaraderie here," he adds. "You get to talk to a lot of other people from all over the world who have the same interest—dairy farming—as you have."

Ken especially enjoys chatting with his American counterparts about the differences between the Canadian and U.S. milk marketing system.

"Our farms, for the most part, are a lot smaller in B.C.," he says. "So you have to be extremely efficient to make a living. With our supply management system, if you are a good manager, you can make very good money. It's interesting to talk to farmers from here and get their perspective."