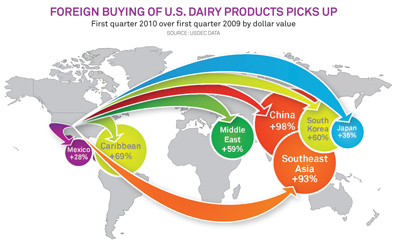 Michigan may be 6,500 miles from Japan, but that isn't stopping Michigan Milk Producers Association (MMPA) from selling butter to the Asian nation.

Neither are the world's oceans keeping Hilmar Cheese Company from exporting its lactose and whey protein to China and Russia from its California and Texas plants.

MMPA and Hilmar Cheese are among a growing number of U.S. dairy processors who are expanding their exporting efforts to capture emerging opportunities abroad.

Undeterred by the 2009 crash of global dairy markets, these processors are looking ahead to take advantage of the world's burgeoning population, higher living standards and increasing demand for protein.

"The U.S. dairy industry is in the perfect position to be a major supplier to the world," says John Jeter, president and CEO of Hilmar Cheese, which already exports to 50 countries.

While the U.S. dairy industry is no stranger to exporting, new players and products are changing the dynamics.

"It's not a game only for those on the left or right coast," says Tom Suber, president of the U.S. Dairy Export Council (USDEC). "And products like whey protein and lactose are going up the value chain."

Whether it's China, the Middle East, Mexico or Southeast Asia, the market for U.S. dairy products is massive. "There are so many opportunities, we can just pick them," Jeter says. "But we have to pick well."

Big business with overseas markets is resuming after the global financial crisis and dwindling dairy prices forced 2009 export sales to plummet by nearly 40%. That drop followed the peak year of 2008, when U.S. dairy exports totaled $3.8 billion. Last year's export decline also ended six straight years of expansion.

So far in 2010, U.S. exports are back in full sail. In March, exports of milk powder, whey protein concentrate, cheese, butterfat and lactose all posted significant gains. Total dairy exports for the month reached nearly $291 million, 71% higher than in March 2009.

"Our 2010 export business is already strong, and we may see a year like 2007, which was our best export year ever," says Clayton Galarneau, MMPA's general manager.

In 2007, MMPA exported almost 20% of its butter and nonfat dry milk (NFDM). By May of this year, it was again approaching those levels. MMPA's export sales for the first four months of 2010 reached $3 million on 2.3 million pounds of butter and 800,000 lb. of NFDM. The products are heading from MMPA's two plants to Canada, Mexico, the Middle East, Japan and Russia.

"It's a great opportunity for us," Galarneau says. "We're always looking to increase profit margins and find the customers who want our products. Everything we can sell outside of the U.S. means that much less price pressure domestically. Our board and membership encourage us to export. It helps add to members' pay price."

Like many U.S. dairy exporters, MMPA works with a handful of brokers to help target foreign customers and meet their needs. "We've adapted new product specifications and changed packaging requirements," Galarneau says.

For example, butter destined for domestic markets is usually produced with a butterfat level of 80%. Most export markets want a butterfat content closer to 83%. MMPA has also developed thicker, colored packaging to better survive the increased handling that comes with export shipping.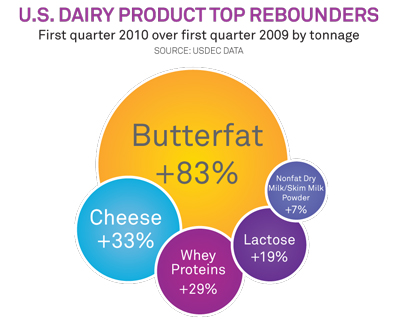 The export pace at another large Midwest dairy processor, Foremost Farms USA, has also picked up. The Wisconsin-based co-op has developed a strong export business in pharmaceutical lactose and the protein powder used in infant formula. Foremost Farms has made pharmaceutical lactose, a high-grade powder used in pills and capsules, since 1984.

In 2007, however, the co-op changed how it sold those products by partnering with two global marketing and distribution companies. Those partnerships opened doors for Foremost Farms, resulting in increased foreign sales, particularly to Asia and Mexico.

"Five years ago, we were close to nothing in export sales of infant formula ingredients," says Keith Gretenhart, Foremost Farms' director of sales and marketing. "In 2009, which was a slow year, we exported 8 million pounds. In 2010, we'll be just under 11 million pounds."

Dairy Farmers of America (DFA), with 20 manufacturing plants and numerous joint ventures, now exports about 10% of its commercial business products, which include cheese, butter and powder. DFA hopes to grow that export number to 20% in the next five to 10 years, says Lavonne Dietrich, vice
president of sales and marketing for global ingredients.

"We've lived through the ups and downs of the export market, and we've learned to adjust and manage internally," Dietrich says.

DFA's biggest foreign market is Mexico, which buys significant amounts of a butterlike product called anhydrous milk fat as well as skim milk powder. China is DFA's second largest foreign buyer, buying primarily whey products. Like other U.S. exporters, DFA has learned to make what its foreign customers want, whether that's white cheddar cheese or unsalted butter.

"We'll always be a domestic-based company, but we want to be a player in the export market as well," Dietrich says. "We're dedicated to optimizing that business as much as possible."

Meeting the demands of foreign customers involves more than pricing, these processors say. Contracts must also ensure product security, traceability and quality.

"What I see in the export market, especially among dairy food manufacturers in Asia, is that their facilities are every bit as advanced and modern as the U.S.," Foremost Farms' Gretenhart says. "We need to make sure that the quality of our plants and packaging is up to world standards so we can compete."

Moreover, the U.S. has to refashion its export image.

"The U.S. dairy industry has traditionally used exporting as an inventory safety valve," Gretenhart adds. "We've got the reputation that we're not always there as a supplier. We've got an enormous dairy industry, and there's no reason we shouldn't be a consistent world player."
 
Bonus content:

"U.S. Cheddar Gets a Boost from CWT"

Bain Report dairy globalization study

Michigan Milk Producers Association

Hilmar Cheese Company

Foremost Farms

Dairy Farmers of America

U.S. Dairy Export Council