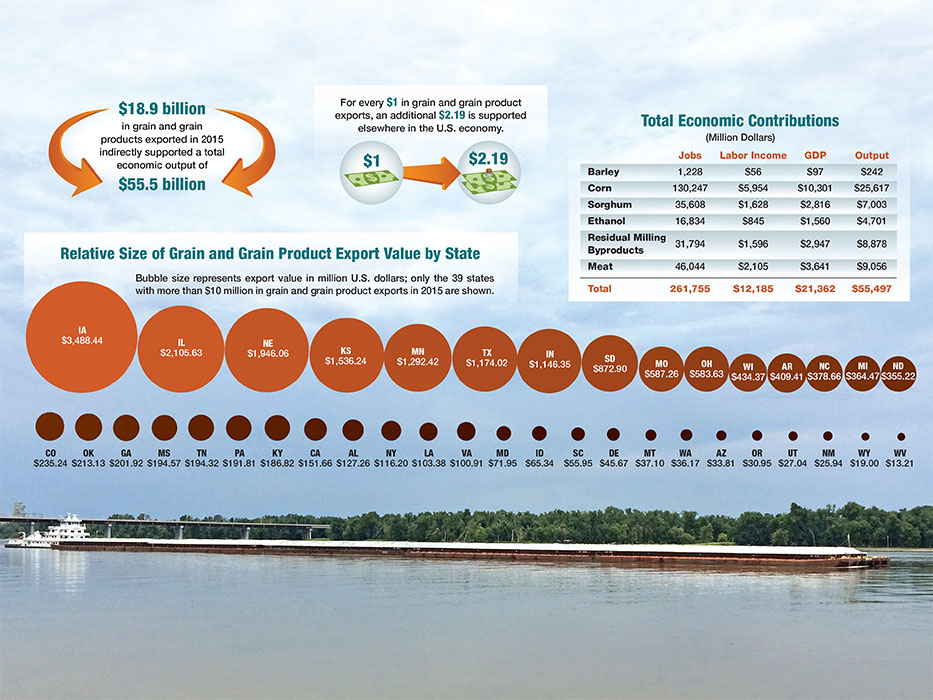 This past year, U.S. ag exports reached their third-highest level on record at $140.5 billion (in fiscal year 2017). The nearly $10.9-billion jump led to another year of trade surplus—a $21.3-billion excess, up almost 30% from 2016's $16.6 billion.
"U.S. ag depends on trade. It is great to see an increase in exports, and we hope to open additional markets to build on this success," said Secretary of Agriculture Sonny Perdue, in a prepared statement. "I'm a grow-it-and-sell-it kind of guy. If American agricultural producers keep growing it, USDA will keep helping to sell it around the world."
China was the largest export customer with $22 billion in shipments. Canada was second at $20.4 billion, then Mexico at $18.6 billion, a 6% gain, and Japan at $11.8 billion, a 12% gain. U.S. bulk commodity exports set a new volume record by increasing 11% from 2016 to 159 million metric tons, a value of $51.4 billion.
The climb in exports was led by soybeans, which reached a record 60 million metric tons, a $24-billion value. Cotton jumped 70% to $5.9 billion, wheat by 21% to $6.2 billion and corn by 6% to $9.7 billion.
Livestock exports also grew. Dairy increased by 17% to $5.3 billion, beef by 16% to $7.1 billion and pork by 14% to $6.4 billion. Overall, horticultural product exports increased 3% to nearly $33.9 billion, largely driven by an 8% increase in tree nut exports, which reached $8.1 billion, the second-highest total on record. Processed food and beverage exports rose 2% to $39.2 billion.
Exports represent 20% of U.S. farm income and support more than 1 million jobs on and off the farm.
Increased export demand is providing market support for farmers. For example, demand for corn this year grew 75 million bushels from exports, feed and residual markets.
Despite the recent increase in corn export sales, record production and high ending stocks mean farmers need to be especially strategic when marketing crops for the 2018/19 year. "Overall, it is going to cap our ability to see an exceptional move higher without something changing significantly," says Angie Setzer, vice president for Citizens LLC.
Even so, Perdue says USDA continues to work to boost export opportunities for U.S. agricultural products by opening new markets, pursuing new trade agreements, enforcing existing agreements and breaking down barriers to trade.