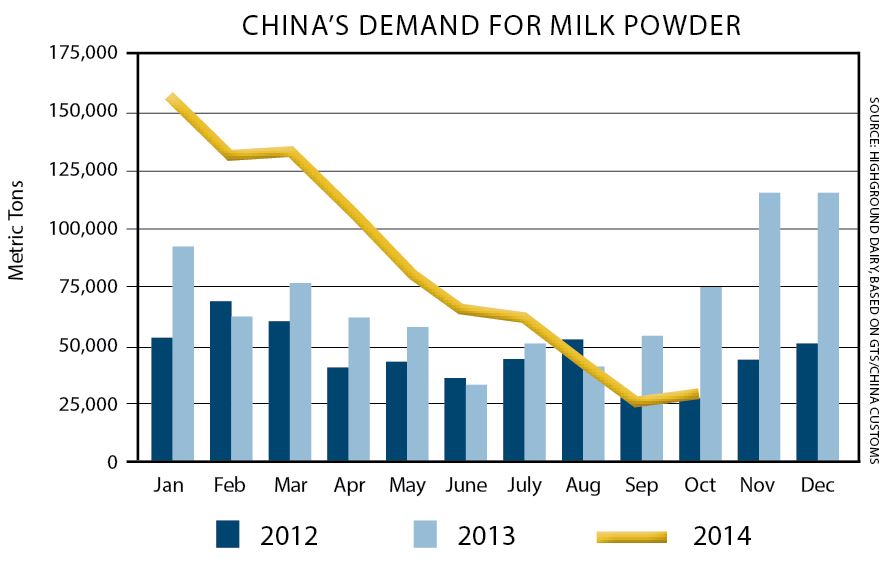 With the U.S. now exporting some 15% of its milk solids, any slump in international sales can fill domestic warehouses quickly and cause U.S. prices to decline.

With approximately 15% of milk solids exported, that means that milk production from one day each week of the year must be sold overseas. That's a daunting number, says Marin Bozic, a dairy economist with the University of Minnesota.

But exports are even more important now, because exports are needed to sop up much of the new milk production that is coming on line across the U.S, he says.
Over the past decade, exports were taking 64% of growth in total solids and 80% of non-fat production increases. In the past four years, those numbers have climbed even higher, to 94% of total solids and 119% of non-fat solids.
Exports were the reason for strong increases in milk prices in 2014, with more butter moving to export and butter prices sky-rocketing. Butter stocks were lower than year-earlier, which almost led to panic buying, Bozic says. However, in the latter half of the year, exports slowed and prices are now on the decline.
 
"China is the dragon in the room," Bozic says. In 2014, the country front-loaded its purchases through the first five months which drove many prices to record levels.

"The big question is what China will do in 2015," he says. "I don't see China driving dairy exports in the short term." Lower world prices are obviously to its advantage—not only for the dairy products it imports but the investments in dairy infrastructure it makes outside of China.

Longer term, it's doubtful China can be self-sufficient in dairy, especially
as it moves away from its one-child policy.