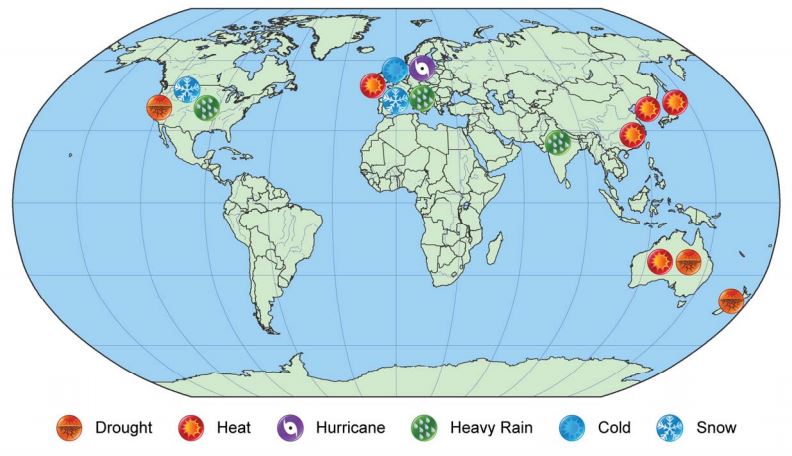 Does extreme weather "just happen?" Or, is human impact on the planet increasing the number and severity of extreme weather events? Scientists recently tried to figure out just that – and have shared their findings in a report titled "Explaining Extreme Events of 2013 From a Climate Perspective."
Thomas Karl, director of NOAA's National Climatic Data Center (NCDC), says it was a good opportunity to assess how well current prediction models and other tools are working.
"This work shows what strengths and limitations we currently have," he says.
The study looked at 16 extreme weather events across the globe, including three in the U.S. – last October's severe blizzard in October 2013, extreme flooding in Colorado in September 2013, and the ongoing California drought. Each event was examined by individual research teams, whose work was later peer reviewed by editors at the Bulletin of the American Meteorological Society (BAMS).
Their conclusion – human activity is fueling the instance and severity of some severe weather events, but that's not true across the board. The researchers are most convinced of human influence on the five heat waves studied in the report, pinning the reason on the burning of fossil fuels.
Other extreme weather could be chalked up to (bad) luck of the draw.
"Natural variability is always a part of any extreme weather and climate  events," Karl says.
Take, for instance, last year's South Dakota blizzard, which dumped between 20 and 55 inches of snow on South Dakota on Oct. 3-5. South Dakota State University Extension climatologists, along with help from other researchers at the University of Idaho Department of Geography and the National Weather Service, wanted to know if they could determine the chances of it happening again.
"It was just an anomaly," says SDSU Extension climate field specialist Laura Edwards. "This type of early season blizzard is an outlier and is not any more likely to occur in the future due to a changing climate."
This type of storm occurs about once per decade. The early timing of this particular storm was especially devastating, however, killing around 45,000 head of livestock, plus millions spent in cleanup costs.
Meanwhile, the scientists' understanding of how human influence affects extreme precipitation was "decidedly mixed." Two papers showed an increasing risk, one showed a decreasing risk, and two showed no influence. Researchers concluded that 2013 U.S. seasonal precipitation extremes could be primarily attributed to natural variability.
Ultimately,  researchers say they are less concerned with finger-pointing and more interested in understanding factors at play so they can better Predict future extreme weather.
"Results from this report not only add to our body of knowledge about what drives extreme events, but what the odds are of these events happening again, and to what severity," says Stephanie Herring, lead editor of the report at the NCDC.
Click here for a full summary of the research. Or, to continue the conversation, visit the AgWeb discussion forums.