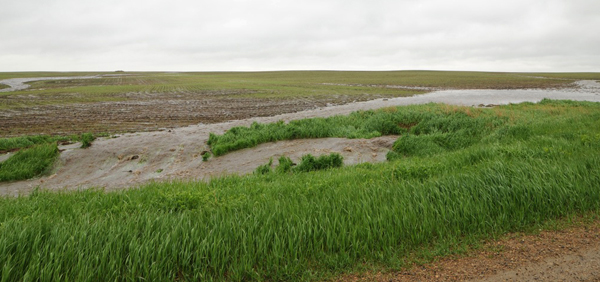 A USDA meteorologist says drought is affecting less of the nation and reducing the effect of recent flooding.
By Bob Ellison, USDA

Most of the Midwestern flooding has peaked outside of the northern Red River Valley, according to USDA Meteorologist Brad Rippey, who adds that more rain on the way does not mean more flooding.

"Even though we have a new storm that's starting to affect the region it doesn't look like rainfall totals will be quite enough to bring a whole new round of flooding," Rippey says. "Yes, we'll see some localized flooding developing in some of the lowland areas, but no more big flooding like what we saw in late April."

The flooding was not as bad as it could have been, which Rippey says was due in part to the drought.

"The fact that we have subsoil moisture that's still on the short side across a lot of areas like Iowa and Minnesota is helping to soak up some of the moisture and certainly has minimized the flooding. It could have been a lot worse if we'd had a wet winter and early spring."

And as for the drought, Rippey says the cool, wet spring reduced drought-affected areas.

"If you look at the entire country, you still see about 47% of the country in drought, but almost all of that area is now focused across the Great Plains and the West."

So does the cool, wet spring mean a cool, wet summer?

"Without El Nino or La Nina it's a very tough summer to forecast," Rippey say. "Right now we're kind of hanging the forecast on the North Atlantic block, and if it persists look for this cool, wet weather pattern to break down and we'll trend into a hotter, drier June and July, which would not be favorable for crops because then we would have late planting compounded with the fact that we'd be heading into a hotter, drier summer."
For More Information
Check your local weather forecast with AgWeb's Pinpoint Weather.
---