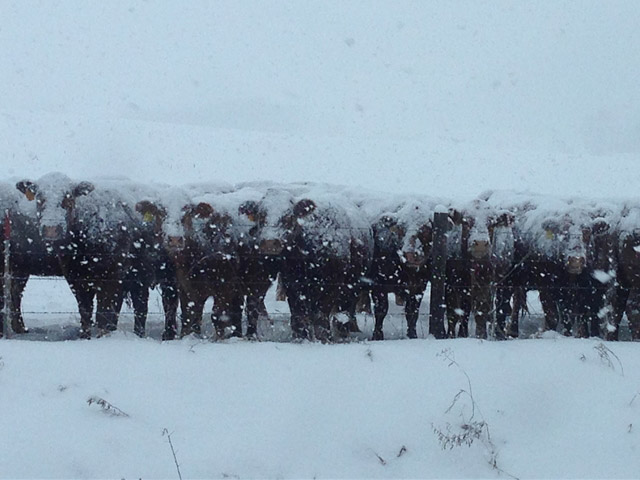 Last fall's blizzard that swept across the Northern Plains could be part of climate change.
By: Laura Edwards and Dennis Todey, SDSU Extension

The blizzard on October 3-5, 2013, will forever be remembered as a devastating natural disaster that caused extraordinary losses to the agricultural industry in western South Dakota and the surrounding area. An estimated 45,000 animals perished in the storm, including cattle, sheep, horses and bison. As the full impact to livestock became known, Rosie Nold and Dave Ollila wrote a clear explanation of why the area suffered such large losses in the early season blizzard.

A recent study was conducted by SDSU climatologists and their colleagues to put the blizzard in historical context, and to determine if any link can be made to human-caused climate change. The study was published in the 100-page report, Explaining Extreme Events of 2013 from a Climate Perspective, that was released in late September.

The blizzard of 2013 was extreme in many ways. Snowfall reports ranged from 20 inches on the Plains to 55 inches in the northern Black Hills. Rapid City established a new 24-hour snowfall record of 19 inches for the month of October. The all-time 24-hour snowfall record had occurred just six months prior, in April 2013, with 20 inches. The wet snow that fell amounted to about 20 percent of the annual average precipitation in some areas of the northern Black Hills and adjacent Plains counties. This was certainly a substantial amount of moisture for a single storm, but ranks as about a one in 10 year event for this area.

Over the last century, we have seen a trend towards wetter fall seasons across most of South Dakota. Since the late 1960s, there has been an increase in the amount of water vapor in the atmosphere in the Rapid City area of almost 12 percent, which is consistent with more precipitation overall. But has the likelihood of early fall extreme snowfall events increased? The challenge to determine any link to human-induced climate change, if any, is difficult for individual events such as this.

To answer that question, the study used climate computer models and historical climate data to look at climate in the pre-industrial era, and compared it to modern day conditions, to determine if there were any changes in frequency of extreme precipitation events in the early fall season. The authors found that a changing climate has not changed the likelihood of similar events, with some models showing that the probability is decreasing, not increasing.

The results of the study show that the October 2013 blizzard in western South Dakota was indeed just by chance, and cannot be definitively tied to human-induced climate change. This is consistent with other research in the Plains region, which show trends toward increased water vapor in the atmosphere, but no statistically significant increase in extreme precipitation events in the fall season.