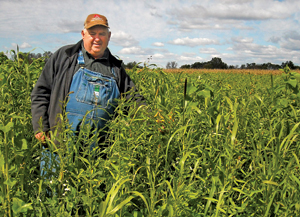 Protect fertilizer surpluses, but timing might be critical
Ohio farmer Dave Brandt doesn't mince words. "Your decision to use cover crops must be because you want to enhance yields or reduce input costs," he says. Simply stated and as business-practical as a pocket on a shirt, his own decision to include cover crops in his corn-soybean rotation for 34 years has been firmly directed at keeping his bottom line profitable.
This year, incorporating cover crops into the cropping system presents a "good news, bad news" scenario for farmers in drought areas. A seriously dry year like this one means that any applied fertilizer is still in the soil in an unstable form. The good news is that cover crops can pull up those nutrients, which could otherwise vaporize with unseasonably warm fall and winter temperatures or leach out with precipitation.
The bad news is that dry weather can cause herbicide carryover, which could prevent cover crop germination and lead farmers to run afoul of label restrictions, should that cover crop be harvested for forage or grazed. "This year, timing will be more critical than ever," says Jamie Scott, a northeast Indiana farmer. "We've seen some carryover problems with broad spectrum atrazine-related products like Lumax and Lexar. We need a few rains to deteriorate these chemistries before we get started [with seeding]." That could mean waiting it out a month for corn fields, according to Scott.
Here are some things to think about when considering whether to use cover crops this fall.
Know what you want to accomplish. Do you want to scavenge nutrients left over from a drought year? Which field has compaction or drainage problems? Do you want to build organic matter, improve water retention, graze it, control erosion, or add fixed nitrogen (N) from legumes? To be effective, learn about the strengths and weaknesses of each cover crop. For example, annual ryegrass has a large root mass for building soil structure, but you need a clean kill the following spring—not always easy, due to time and weather.
Single crop or a mix? Brandt is partial to mixes or "blends" of cover crops. "You can't build soils as fast as you can with blends," he says. "I lean toward using three or four species." Brandt advanced from single-species plantings to a mix of Austrian peas and radishes eight years ago and for the past two years has experimented with six-, eight- and 10-species mixes. Your local Natural Resources Conservation Service office has a list of species most adapted to your region.
Figure your input costs. "If you're planting cover crops for the first time, you should have some kind of balanced fertilizer, such as 12-12-12 or 16-16-16, at 50 lb. to 75 lb. per acre," Brandt says. "There are probably not enough nutrients available [if the ground has never been no-tilled] to jump-start a cover crop. One percent of organic matter has 10 lb. of N, so
4% organic matter has 50 lb. to 60 lb. or even 80 lb. of N, and that makes a big difference when you're trying to start cover crop seedlings." Costs will vary depending on which seed and how much you use, but they range from $20 to $40 per acre.

When to plant. Excluding the drier parts of the country with herbicide carry-over concerns, crop seeding is based on choice of cover crops, rainfall, harvest timing and the first frost date. Typically, this is from mid-August after silage cutting to mid-September through the first part of October. "A month head start [before frost] is critical," Scott says. "The quicker we can get something on, the quicker we can be picking those nutrients up."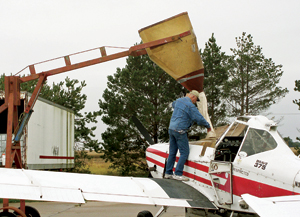 Pre-weighed 1,500-lb. totes of cereal rye from seed vendors will soon replace the need for Ralph Storm's scale truck in the seed loading operation.
Planting options. Just about anything goes when it comes to planting cover crops, but with larger seed, it's better to use a drill or planter to plant at a depth of 1⁄2" to 1". Brandt likes to put his blend of Austrian peas and radishes in his no-till corn by using a 15-row planter on 15" centers.
Brandt says you have to justify the cost of today's planters: "Make your corn planter plant your cover crop." As with his corn and soybeans, he precision plants some cover crops "so we can count on our nutrients to do more [for the developing plants]. Since weather, time and labor require management flexibility, Brandt also brings his Krause grain drill into operation for the cover crop planting seasonal rush.
"Out of all the cover crops we have to pick from, the best way to put them in the ground is to drill them, but we can't get across every acre to get that done in the fall—we have to look at other options," Scott says. Out of 2,000 corn and soybean acres, 400 get drilled and, due to a time crunch, cover crops are flown on the remaining acres.
Scott, who farms with his father, Jim, manages custom aerial applications on the side. He says that to get a good spread, you can't have a ground surface wind over 7 mph. Annual ryegrass is a favorite cover crop, applied as a single species or used in a mix. "As long as we're using annual ryegrass in the mix, we're getting everything to hold together and the spread to come out evenly," he says.
"For each product, we calibrate to that plane, so we get it right. Our pilots love the crimson clover and ryegrass mix because clover has a little more weight to it to get it out of the hopper." All seed that goes into the airplane hopper is weighed from an auger truck with a scale. "We know every time a plane fills and how many pounds, and we calibrate it to the acreage [to be spread]." Scott's pilots allow for some overlap when spreading on a field at 130 mph at treetop height. Aerial cover crop application can run $9 to $20 per acre.
Interest in aerial seeding seems to be picking up, according to Ralph Storm of Storm Flying Service, located near Webster City in central Iowa. Storm covered 8,000 acres with winter wheat and cereal rye last fall in his Piper Pawnee Brave. He handles bulk seed in auger carts with scales at the airport and transfers the seed by mobile hopper into his 37-cu.-ft. airplane hopper.
Once in the air and on a flight path to his target field, he releases the quick-dump gate, with a calibrated opening for a 55' spread at 110 mph. The seed flows through a set of air vanes underneath the plane that are designed to spread like a fan to provide the proper spread pattern.
With the cost and time it takes to put in cover crops, Brandt says, it's important to remember the fruits of your labor. "There is nothing like a drought to show the difference in yield between fields with and without cover crops. Around here [central Ohio], our corn hasn't suffered as much as the neighboring conventionally farmed corn. There may be a 25% yield difference between the two," he says. "That beats some of our no-till fields as well, which might yield only 60 bu. to 80 bu. this year."
---