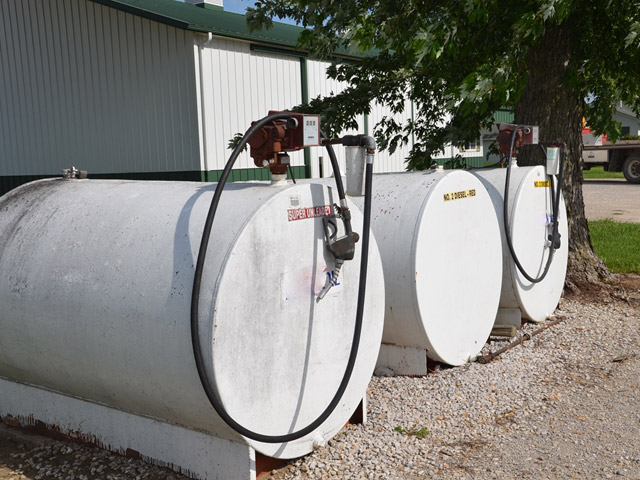 The plunge in U.S. fuel costs is coming too late to help American farmers stung by the lowest crop prices in years.
Most growers buy tractor-diesel as well as energy-based fertilizers and pesticides well before the harvests, which started in September for the biggest crops, corn and soybeans. While crude-oil futures began inching lower in June, it would take months before the declines turned into a full-fledged bear market. Now farmers need prices to remain low for another six months to reap any benefits next year.
"The drop in energy prices has been too recent to have any impact on farmer checkbooks," said Michael Swanson, a Minneapolis-based senior agricultural economist at Wells Fargo Co., the biggest U.S. farm lender. "It takes a while for sustained lower energy prices to impact input prices because oil prices are volatile."
Production of corn, soybeans, wheat and other crops consume a large amount of energy, either directly through combustion of fuel to plant, harvest and deliver crops, or indirectly through the use of energy-intensive fertilizers and other growing aids. In 2013, fertilizer, pesticides and fuel represented 32 percent of the cost to grow corn, while soybeans were 19 percent and wheat 26 percent, according to data from the U.S. Department of Agriculture.
Cheaper Energy
Growers are missing out on the benefits of cheaper energy at time when record U.S. harvests are driving down prices for corn and soybeans. American farm income this year was estimated to fall 14 percent to $113.2 billion, the government said Aug. 26. Bigger crops are helping to keep a lid on global food inflation, with the United Nations reporting a sixth straight drop for costs in September, the longest slide since 2009.
Oil futures in New York slumped 27 percent since June 30, reaching a three-year low of $75.84 a barrel yesterday. They were at $77.27 as of 9:23 a.m. in New York. Crude fell 12 percent in October, the biggest loss since May 2012 and capping a four-month slide that was the longest since 2009. While natural gas lost 7.4 percent since June, the cost of nitrogen fertilizer derived from the gas was 1.7 percent higher than a year earlier as of yesterday.
Agriculture Prices
The plunge in agriculture prices, meanwhile, has hit most major U.S. crops. Corn is down 15 percent from a year ago, soybeans have fallen 20 percent and wheat dropped 20 percent.
The cost to plant and harvest corn in Illinois will be $585 an acre in 2015 and soybeans would cost $370, excluding land, the University of Illinois estimated in September. Both projections are little changed from a year earlier because reported fertilizer, seed and other prices were steady, Illinois economist Gary Schnitkey said in the report.
Average diesel prices in the Midwest were $3.61 a gallon on Oct. 27, down 10 percent from an 11-month high of $4.025 reached in February and 5.9 percent lower than a year earlier, data from the Department of Energy show. Since the end of February 2011, the price traded between $3.58 and $4.15.
Even if energy costs remain at these levels next year, the decline isn't big enough to provide a real lift to farmers, said Dale Durchholz, the senior market analyst for AgriVisor LLC in Bloomington, Illinois. A 3 percent drop in fuel expenses would reduce the cost of growing corn by 10 cents a bushel and soybeans by 20 cents, he said.
"Energy prices have not gone down enough," Durchholz said in an Oct. 30 telephone interview.