The United Nation's Food and Agriculture Organization (FAO) Food Price Index averaged 213 points in August 2012, unchanged from July, when the index spiked 6%.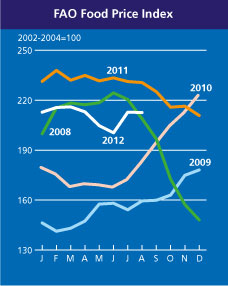 Although still high, the FAO Index currently stands 25 points below its peak of 238 points in February 2011 and 18 points below its  August 2011 level. The index showed international prices of cereals and oils and fats changed little in August but sugar prices fell sharply, compensating for rising meat and dairy prices.
Meanwhile, the FAO revised down its world cereal grain forecast by 4.2% to 2.295 billion metric tons (MT) and cuts its world wheat forecast by 2.2% to 663 million MT. The global cereal grain forecast is forecast reflects the worsening of corn production prospects in the United States because of the widespread and severe drought.
Regarding wheat production, FAO says: "Wheat output in the Russian Federation is forecast to decline by 29%  to 40 million MT compared to 2011, while production also looks set to fall sharply in Kazakhstan and Ukraine, by 47% and 37% respectively. By contrast,  United States' wheat production is seen as increasing by 13.5% to an above-average level of  61.7 million MT while record harvests are also expected in India and China."
---