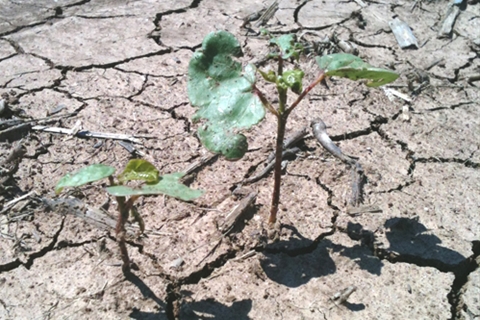 Cotton growers in Texas and other southwestern states plagued by years of drought may plant fewer acres next season because of a bureaucratic delay in implementing a provision of the farm bill.
The U.S. Agriculture Department was supposed to calculate production yields for all commodities by county in time for the 2015 crop year. But it now says the department's Risk Management Agency can't do that until the 2016 crop year.
The delay is expected to reduce the amount of crop insurance available for purchase by growers because they won't be able to exclude years of eroded production caused by the last decade of drought. Farm lenders use such production stats in determining loans.
Cotton growers, unlike other commodity producers who have other layers of financial protection, are expected to be hardest hit by the delay.
"It's just critical that they get it done," said Steve Verett, spokesman for the Lubbock-based Plains Cotton Growers, which represents cotton growers in 41 counties on the High Plains, the world's largest contiguous growing patch. "Folks at RMA understand the importance, but they've set priorities to do certain things and this is not one of the priorities."
The farm bill mandate calls for the Risk Management Agency to calculate each U.S. county's actual production history. Growers in each county are able to drop off years in which production fell below 50 percent of a county's 10-year average.
Individual producers then use the county numbers to establish their 10-year production average, allowing them to insure at a level that reflects what they hope to produce.
"Because of the drought many producers have had several years of losses," said David Cleavinger, who farms cotton, wheat, corn, and grain sorghum in Deaf Smith County. "Their average production is down and not taking those years out could make a difference if a bank was willing to finance them or not."
Lawmakers said they will continue to pressure U.S. Agriculture Secretary Tom Vilsack to get the calculations done on time.
"I'm unpersuaded with the reasons they've told me so far why they can't get this done," said U.S. Rep. Mike Conaway of Midland, a member of the House Agriculture Committee. "They can go through and triage this issue" for drought-ravaged regions.
Vilsack called the agency's inability to do the county calculations a "staffing challenge," and noted that the farm bill provided additional funding to allow some of the work to be done by outside contracts.
"It's about priorities," Vilsack said last month. "This is not as simple as it may appear at first blush."
Drought has plagued Texas, the nation's leading cotton-producing state, which suffered through its driest year ever in 2011, Oklahoma, New Mexico, Colorado and Kansas in recent years. Drought also struck other southwestern states since 2011 and hit the Midwest in 2012.
Don Langston, a cotton producer in Lubbock County, called the delay "just typical" government bureaucracy.
"We're out here fighting the drought," he said. "How long does it take for a computer to run those numbers?"