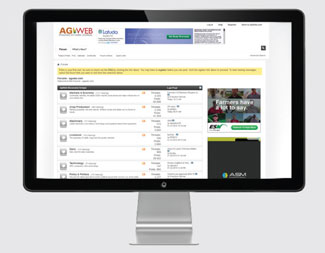 The AgWeb discussion board is a digital version of the local diner. Stop by and see what topics are on farmers' minds. Whether it's markets, crops, livestock, dairy, machinery or just joking around, the AgWeb discussion forums are always open.
Join Conversations Like These
Fuel Up!
Lower prices mean farmers can stretch their dollar at the pump, but what does it mean to other sectors of the U.S. energy economy? 

Drone Zone
How are farmers using drones on the farm? Are they legal? Are they safe? Get answers to these questions and more.

Crop Insurance
Farmers ponder the pros and cons of the options available to them as the decision deadline nears.

Vintage Farm
After looking through more than 100 years of archives, here are a few favorite vintage magazine covers.

The Lounge
Farmers don't talk only about farming. Here, they catch up on anything from sports bragging rights to movie reviews.