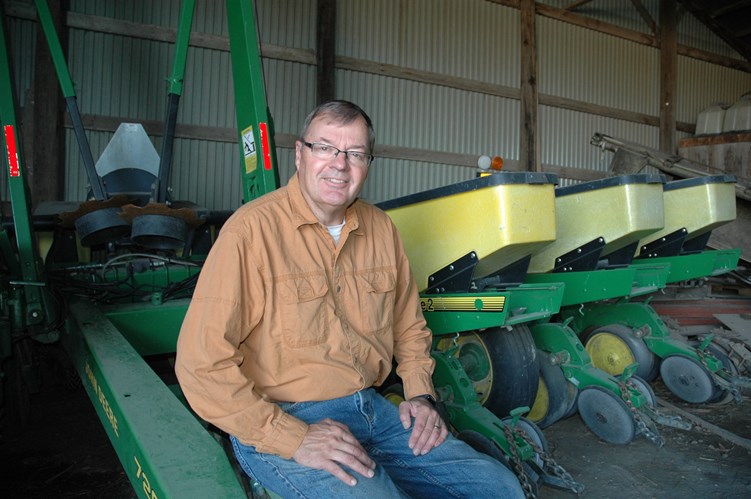 When a farmer looks at shiny new equipment and can't tell the difference between a price tag and a toe tag, expect innovation to emerge. With equipment and technology costs hanging like the sword of Damocles over the heads of many producers, Jim Poyzer is crafting backyard digital solutions with a keyboard and hammer in hand.
Necessity is the mother of agricultural invention and Poyzer, 66, is one of its patron saints. He may be in the old guard age bracket, but make no mistake, Poyzer is among a new breed of innovators connecting digital DIY technology to older equipment.
Born into a farming family in central Iowa, Poyzer left the farm for training in electrical engineering, emerged with a degree in physics, and spent a long career in computer development and programming for big store chains. In 2010, the family land was sold and the profit split between Poyzer and his siblings. He took his share and bought 180 acres close to his home in Ankeny. After almost 45 years from walking away, Poyzer jumped back into farming with a lifetime of digital knowledge under his hat.
He bought a small tractor and a few pieces of extra equipment, and filled in the knowledge gap with advice from a farming brother-in-law and several cousins. Chemicals, equipment, seeds and so much more, Poyzer was either learning or relearning what so many other farmers take for granted, but he held tight and successfully careened around a sharp learning curve.
Poyzer quickly became familiar with the row-monitoring capability of Precision Planting's 20/20 SeedSense and Ag Leader's SeedCommand.
"I knew the electronics on a planter." he says. "It's just a LED light with a receiver on the other end sending a signal up to the computers of these companies. I said, 'I think I can do that.'"
Poyzer wasn't intent on building a better mousetrap; he wanted to build the right mousetrap for his needs at a fraction of the premium cost. In other words, he spent $300 and used a microprocessor to build his own planter monitor for a 1969 John Deere 7000 tractor with adjustable corn meters.
He devised a control box that hooked to the planter and watched for signals to arrive from each row sensor. The data was sent to a laptop and ran through a program designed by Poyzer. On the first test run, he was able to observe planting progression of all rows on the screen simultaneously.
"I got out of the cab 25 times, adjusting the planter and making improvements immediately," he says. "I knew it was already making me money."
Over the next three years, Poyzer continuously moved the system toward a tablet platform and made it stronger to compare with market models. In the spring of 2015, he began experimenting with variable rate technology to compensate for sandy areas of lower production in his fields. Poyzer wrote a GPS-responsive program for a Duo-rate device capable of planting populations according to prescription. "I estimate I'm saving $1,000 on seed every year and right now, that's a significant amount to me," he says.
When producer Randy Brekke caught wind of the DIY planter monitor, he had Poyzer build a twin. On just a $100 tablet, Brekke says the system is seamless: "It was inexpensive compared to the big boys and works even better. Frankly, it's been a godsend for my planting efficiency."
Brekke farms corn and soybeans in Ames and says Poyzer is at the front end of approaching change.
Jim is one of the first farmers to mix a tablet and smartphone with my equipment," he says. "There are lots of guys wanting to make these changes, particularly on older equipment."
Design and innovation are in Poyzer's blood. Even as a child, he constantly hammered and sawed on back-yard projects, and the urge to tinker never left him. Beyond the planter monitor, he's working on a solar powered sensor to monitor soil temperature and get a jump on planting. However, the parts are buried on his workbench beneath a host of IoT projects. He's just scratched the surface on the potential of a microcomputer with built-in cellular technology that allows plug-and-play of crop sensors and streaming of data to his smartphone.
"These types of changes are going to save farmers money in the long run," Poyzer says. "IoT technology is beginning to bear fruit everywhere."
Poyzer is also targeting tech changes at harvest. He uses an 8-row planter, but his crops are combined by relatives with 12-row heads. The difference requires precise planting on the 30" rows, but despite using autosteer, the GPS signal sometimes slightly changes on turnarounds and affects row spacing. Rather than pay for a new corn header, he's crafting a solution for just several hundred dollars. Essentially, Poyzer is building his own base station to fix the problem and send a GPS correction factor to his tractor.
Bryon Westrum farms corn and soybeans nearby, and leases several hog barns in central Iowa. He says Poyzer's innovation is driven by cost concerns. Westrum strictly adheres to a fleet of used equipment and mixes, matches or tinkers as needed.
"Jim does such a great job in finding technology to substitute for more expensive units," he says. "Once he figures out a device, then he integrates in more things."
Westrum believes agriculture is barely at the forefront of a DIY jump in electronic technology, and says young producers are particularly primed to soak up ideas from innovators like Poyzer: "These young guys are already well-versed in the technology. The more this stuff gets out there, the better it will be for all farmers."
Poyzer has set up a website (outfarming.com) to display his latest innovations and hopes to add drone technology to his project list. He looks at farming with the eyes of a computer technician and says the coming change in agriculture will be phenomenal.
"The pace of change is simply incredible," he says. "The tech is changing so fast that things are becoming available I never would have dreamed of even two years ago."