As local and regional food gains in popularity, so do the opportunities for value-added and direct marketing of farm products.
This year at the 2014 Executive Women in Agriculture conference, attendees will be able to gain valuable insight to the farm-to-table movement during a panel discussion.
The panel will include:
Chef Nicole Pederson, Found, Evanston, Ill.
After culinary school in her hometown of Minneapolis and staging in France, she was at Gramercy Tavern in New York then Lula Café in Chicago, where she honed her passion for all things local. She most recently held the post of Executive Chef at C-House, where she cut her teeth on running a kitchen. Nicole's Midwestern roots contribute to her focus on pure flavors, simplicity, and seasonality in her cuisine, evident in Found's produce-centric menu.
Sarah Peterson, Peterson Farm, Niles, Mich.
The Petersons raise corn and soybeans and run a cow herd of around 300 head of Angus-Simmental cross cattle. Sarah lives and works on her family farm, a third-generation farm, located in the southwest corner of Michigan. Sarah's husband's parents, grandmother and brother run the farm with Sarah and her husband. The Peterson farm, like most farms, pushes to operate as sustainably as possible, taking advantage of their crops and the local availability of byproduct feeds in their on-site feedlot. In between raising two young children and advocating efforts for agriculture, she is responsible for the farm record keeping, feeding and processing the cattle, plowing fields for planting and even fills in as a combine driver whenever necessary.
 
Lorna D. Christie, President, Christie Consulting, former COO of Produce Marketing Association
Lorna's career has included directing the activities of the Produce Marketing Association, everything from product development to government relations to business development. She is an accomplished industry spokesperson and effective marketing and public relations strategist with proven crisis management and mitigation experience. She's held senior management roles in corporate, public and government organizations. Prior to joining the Produce Marketing Association, she served as Chief Administrative Officer for Image Data, LLC, a high-tech firm specializing in identity theft protection. The majority of her career was spent in Washington, D.C., as Vice President, Consumer Affairs for the Direct Marketing Association.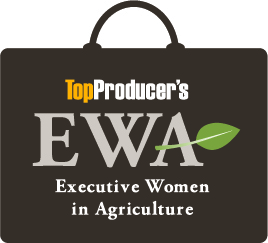 Register now to attend the 2015 Executive Women in Agriculture conference, which will take place Dec. 4-5 at the Palmer House Hilton Hotel in Chicago, Ill. View the agenda. Early-bird registration ends Nov. 11!