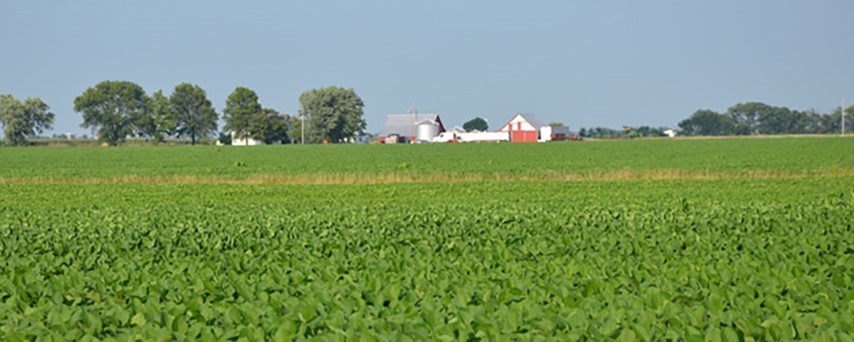 USDA sets wheels of farm program changes into motion with more details and tools on the way
The rollout on new farm bill regulations hit mailboxes in August with a letter from USDA. Acting on the letter is crucial because it sets into motion the reallocation of base acres and updates to counter-cyclical yields. The letter provides historical data on both from USDA's Farm Service Agency (FSA).

"The one-time option for landowners to reallocate acres is important for two reasons: emerging low prices and because Agricultural Risk Coverage (ARC) and Price Loss Coverage (PLC) pay on base acres," says Gary Schnitkey, University of Illinois ag economist. "The change can be substantive."

The first step—created by the 960-page farm bill Congress finally passed in February—has three distinct parts: update, election and enrollment. 

An equally important part of the update process, Schnitkey recommends landowners consider updating yields, outlined by FSA's letter, because they are likely to be higher than those in play under the last farm bill. If so, program payments would get a boost. 

However, updated yields can be surprisingly low, he cautions, due to the 2012 drought and localized production problems in some years. In general, 90% of 2008 through 2012 average yields for the U.S. were 28% higher for corn, 20% higher for soybeans and 2% higher for wheat. Grain sorghum yields were lower by 14%. 

Farmers have the option to update low yields in individual years with 75% of the county average yield. For example, if from 2008 through 2011 the individual yield was higher than the county average but in 2012 the county average was higher, it can be substituted.

If owners/operators note missing or inaccurate data when they analyze FSA's letter, they should contact their county office so accurate data can be used in determinations. 

Today's decisions matter. Farm program decisions involve more than just PLC and ARC because of how PLC interacts with the federal crop insurance program, adds Chad Hart, ag economist at Iowa State University. For example, the combination of PLC and the new Supplemental Coverage Option (SCO), a shallow-loss program, might allow farmers to lower insurance coverage without adding risk.

The first step now underway is going to catch many landowners who don't have base and yield records by surprise, says Steve Johnson, farm management specialist for Iowa State University Extension.

He thinks tenants are wise to link the update part of the farm program changes with negotiating new farmland cash rents for 2015. The power in negotiating leases for 2015 doesn't all reside with the landlord, he says. 

"Some landlords won't understand the contents of the letter and report they receive in the mail," Johnson says. "Landlords will be making longer term decisions than they're used to." 

Tenants might not be inclined to share yield information with landlords if landlords fail to offer a renewal of the cash lease at realistic price levels.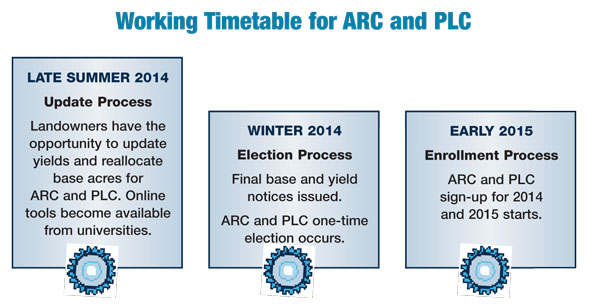 In August, USDA mailed farm program regulations for ARC and PLC to operators and landowners. The timetable, still fluid at press time, represents USDA's best estimates.

"Some operators will have more power than normal," Johnson adds.

In analyzing PLC and ARC for Iowa, neither would have come into play for most years, Hart says. Both would have been paid in only one year, 2009, ARC in 2013 and PLC never. However, with low prices, a 10¢ per bushel payment would be triggered if the 2014/15 marketing year price is $3.60 per bushel, and a 60¢ payment at $3.10. For both ARC and PLC, "there is good potential for payments for 2014," Hart says.