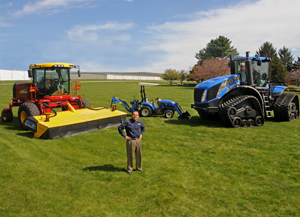 Sit-down interview with New Holland's leadership reveals the company's strategy for renewal
Standing in front of the original New Holland factory, Abe Hughes makes it crystal-clear that these are new days with new ways for the company. The plainspoken maverick leader is focused on one goal: Get the company back in the game in North America.

To do that, Hughes and his team are tapping New Holland's strong roots and marching through an ambitious rejuvenation plan. In early April, the leadership team sat down with Farm Journal to share an exclusive look at their new strategy.

With his trademark candor, Hughes refers to the 1999 merger of Case IH and New Holland to form CNH as "the big bang that destabilized our brand." And he's not kidding.

"The momentum of CNH did not land on New Holland, and some of our focus and energy was lost," explained Hughes, vice president of New Holland North America. "We had 10 difficult years after that in what is a classic case study of a business losing its footing."

That started to change in the fall of 2009, when the top management of Fiat Industrial decided to bring New Holland back in North America. (CNH is a publicly held division of Fiat Industrial which is the world's third largest capital goods manufacturer.)

"Senior management recognized that New Holland is strong in other regions of the world and that we needed to change things here," Hughes said.

Known for the successful turnaround of both Fiat and Chrysler, top management focused their attention to the blue brand. Hughes was brought in from business development to spearhead a team and the project. For nine months, more than four hours were dedicated exclusively to the plan for New Holland during monthly CNH senior management meetings.

"It was a very intense study of how to restructure New Holland North America and bring it back," Hughes said.

That work gave birth to the current strategy, which Hughes was deployed in July 2010 to implement.

As the seventh leader of the company in six years, the seasoned executive was not only given marching orders but also staying power from the senior Fiat and CNH leadership to re-create the stability New Holland was known for in the industry.

Five points underpin the New Holland game plan: customers; products; leadership; network and dealers; finance and profitability.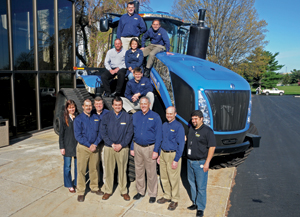 The New Holland leadership team is working hard to make sure the company's products aren't camouflaged in the market. Front row (left to right):
Maria Sipler, Sean Dorosz, Ken Snover, Mike Cornman, Brian Falk, Tom Catalano, Julio Garamvolgyi; on the tracks: Dan Valen; back rows: Ron Shaffer, John Elliott, Chun Woytera and Abe Hughes.
"We have to be oriented to our customers. Our products have to be competitive and fierce. Our network and dealers need to be vibrant and high-quality partners. The leadership needed many management changes. And the final scorecard is our finances and profitability," Hughes said.
For starters, the company reoriented its products and marketing toward three customer segments: cash crop; dairy and livestock; and residential, commercial, municipal and utility.

Customer needs in each segment are what drove the company to unveil 14 new products in 2010 and 2011. They also keep New Holland forming new partnerships and expanding its offerings.

"We have switched from just a product focus to a customer focus," said John Elliott, director of marketing for North America. "We have committed leadership and brought together a team of experts within their areas."

Many of the new leaders were brought from other areas of CNH, including parts, finance and service, but Hughes also sought out individuals with a passion for the New Holland brand.

"When we were at our dealer council meeting last February, I could tell the dealers to look around the table and all of the segment directors there were the same ones from the previous year. That was the first time in 15 years I could say that," Hughes said.

Identifying its customer focus areas has set New Holland on a new course.

"Our customer is not monolithic. We are going for the mixed or diversified farmer who produces both cash crops and livestock or dairy," Hughes said. "More than half of our business is cash grain and dairy, and we will transition more to these producers given the growth in this segment."
In its North American dealerships, New Holland now divides its business along customer segments and works with its dealer network based on dealers' market focus.

"We have been New Holland dealers through all of the hardest periods, and I can say that today we have committed leadership and strong products that are better than even our heyday with the Genesis," says Jim Straeter of New Holland Rochester, a five-location dealer in Indiana. "I have three sons in business with me, so I have a vested interest in the future of this company, and it's comforting to know that the leadership is in place to do what it's going to take to move ahead."

The company has listened to its dealers to identify the products needed in the blue line.

"Our dealers told us they needed a utility vehicle, so the Rustler was born," explains Dan Valen, segment leader for residential, commercial, municipal and utility.

The Rustler is a partnership with Club Car and just one example of how New Holland is aligning with other companies to expand its line. Another notable partner is Miller St. Nazianz, which produces the Guardian series of self-propelled sprayers with front-boom and rear-boom models.

"We have an impressive constellation of products today," Hughes said, noting that he is not finished yet. "Crop and soil preparation are areas we are looking to fill through in-house products, new alliances and ventures or innovative marketing partnerships."

Another corporate initiative, with Trimble as a key partner, is integrating more precision technology. By this fall, T8 tractors, T9 tractors and combines can have complete guidance systems before reaching dealers.

"Precision technologies are becoming like the options for power windows and locks in cars. Farmers expect an offering as standard equipment," says Sean Dorosz, segment leader for high-horsepower tractors and precision ag.

As the company plays out its game plan, its leaders look to build on its existing strengths.

"We have the most complete offering in hay and forage," said Mike Cornman, segment leader for dairy and livestock. "And we have opportunities to further serve customers. For example, with self-propelled forage harvesters we will be looking at large operations and custom harvesters differently."

To encourage farmers to give New Holland a new look, the company has a Ready to Roll sales event that lasts through June. The demo program includes a midrange tractor and multiple pieces of hay equipment. Each dealer sets the time frame and the sales incentive for those who participate.

Pre-order programs are common, but New Holland's approach is designed to include high-horsepower tractors and combines as well as hay and forage equipment.

"Now in its second year, the Built My Way program can offer 4% to 6% price difference if customers change the timing of their machinery purchase," Dorosz explained.
Purpose-driven. With its Customer-Driven Product Development program, the customer is at the core of New Holland's combine engineering process.

"With combines that are more than 500 hp, machines are processing more crop than before," said Brian Falk, global product manager for combines and headers. "So we are designing systems that can help maximize harvest."

Currently available systems include the Terrain Tracer, which provides lateral movement for the feeder house, and IntelliCruise, which adjusts speed based on how much material is going through the combine. One technology on the horizon is the Grain Cam, which uses imaging to take a snapshot in the grain elevator and measure grain damage.

With its new offerings, New Holland looks to tap into Fiat resources.

"Fiat has more than 100 years of engineering and design experience in the automotive field," Hughes noted. "When we were designing the Boomer 8N, we worked with our corporate cousins at the Fiat Style Center on its design and look, which is the same group that designs for Maserati and Alfa Romeo."

Hughes described some projects as "zany and stylish," such as a $3,000 option to paint T7 tractors Maserati blue with chrome accents. The company is almost sold out of this option. Last fall, farm show–goers saw combines and tractors with Realtree camo wraps, which will be available soon.

At New Holland headquarters, the company will break ground this fall for a dedicated customer center.

"We already have 3,000 visitors a year," Elliott said. "Almost half of those are customers who just walk in and ask for a factory tour."

Moving ahead, Hughes said, the company is just getting started.

"We've done the work to restructure. Now we're in growth mode," he explained. "Most importantly, we have the backing of management for this long-term leadership and our plans for the future."

After two successful years and a return to profitability, Hughes is confident in how he's changing the game for New Holland.
---
Related Videos:
---