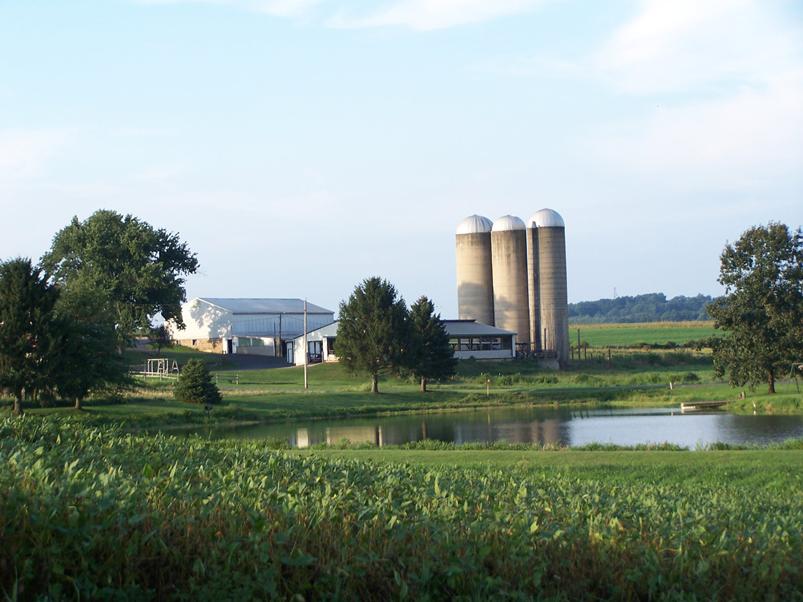 The five D's can pose a serious threat to your farm business.
By Craig Thomas, Michigan State University
Every farm business faces a host of risks from weather, disease, markets and ever changing ag policies. However, there are five major risks every farm transition plan should consider and develop contingencies to address them. They are the dreaded five D's: death, disability, divorce and disagreements. Any of the dreaded five D's can create a situation that can seriously damage or even cause the farm business to fail. It is essential for all farms, and particularly those developing a farm transition plan, to develop plans that will reduce these important risks.
Most farmers are optimistic by nature and sometimes forget that even the best laid plans can and do fail. Discussing and planning for the five D's is not a pleasant task, but nonetheless it is a task every farm business should address as it establishes goals and makes plans for the future. It is not possible to eliminate these risks, but Michigan State University Extension recommends using proper planning to reduce the likelihood these negative events can impede or even destroy the farm transfer or farm business.
Death: Although not a pleasant thought, we all will eventually die. Furthermore, farming is the single most dangerous occupation in the United States. What would happen to your farm business if the person providing the lion's share of management and/or labor were to meet with an untimely death? Is a plan in place to pass the assets down to the next generation with the farm still having the ability to operate? Is there someone who is capable of stepping into the shoes of the deceased and providing an adequate level of management and/or labor so the farm business can continue to thrive? Do you protect the farm assets with life insurance or other strategies more suitable to your situation? Regardless of the tactics employed the farm business and transition plan must discuss and plan for this possibility and employ a strategy that will aid the younger generation in gaining control of key farm assets needed to insure success in the case of a premature death of an older family member who owns most of the farm assets. Or what happens if the wrong person dies first?
Disability: Again, farming is a dangerous activity and unfortunately provides many opportunities for disabling injuries. Also, as family members grow older they may be affected by illnesses that prevent or limit their ability to function as a productive member of the farm management team. Disability or income continuation insurance can provide the dollars to cover some of the expenses during a fixed period of disability. Make sure your policy is not one that has limits on the total dollars or length of time they will cover. Even though such insurance is a good strategy, the first line of defense should focus on prevention. Every aspect of the farming operation should be scrutinized to identify potential safety and/or health problems. Don't hesitate to spend some dollars to hire safety experts who can often see hazards you fail to identify. Provide regular safety training for all farm family members and employees. Don't make the mistake of assuming your farmstead is safe and/or that everyone understands safety procedures. When it comes to farm accidents it is often easy to think "it will never happen to me." Don't allow yourself, your farm family members or your employees to ever take safety for granted.
Disaster: Most often when we think about a disaster we think of something like a tornado, flood or major drought. However, any event that can have a major impact on your farm business and threaten its survival is a disaster. For example, a major disease outbreak in the herd, contaminated feed, stray voltage, a manure spill or other environmental contamination is a potential disaster. Any one of these events can put your farming operation in financial jeopardy. Have you considered all of the possible disasters that could occur on your farm? Does your insurance policy cover such disasters and is the level of coverage adequate to really protect your farm business from failure? Some disasters may also be preventable. For example, is your manure handling procedures and equipment analyzed regularly to decrease the likelihood of a major spill? Do you have a contingency fund or non-farm investments that could be used to help your business recover in the event of a disaster?
Divorce: Nobody plans on divorce, but the cold hard fact is that nearly one of every two marriages end up in divorce. It has been my experience that most divorces start out amicable but almost inevitably end up hostile. It is important to have a marital property agreement listing all assets and debts along with all ownership and management responsibilities. Even then divorce decrees and court-ordered property settlements may disregard such prior agreements. Again, prevention is key. Recognize that farming can place a great deal of stress on all parties, even those not directly involved in the day to day operation of the farm. Be proactive in cultivating a healthy marriage relationship. Don't take your spouse for granted. Communicate, communicate, communicate!
Disagreements: There are many opportunities for conflicts to arise in a farm business. There can be disagreements over business goals, management decisions, capital allocations, sharing of farm profits, work hours, etc. It has been my experience in working with farm families that such disagreements among farm family members hold the potential to be the most dangerous of the five D's. Many a farm family has been torn asunder permanently by such disagreements. This can result in family members leaving the farm business and departing with substantial assets that make continuation of the farm business impossible or at least very much disrupts current and future operations. Unfortunately, it can lead to physical violence and a permanent rupture of the family relationship. Once again, communication is the key to come to a resolution. It is critical for every member of the farm family to understand their role and expectations of performance. It is also important that a farm transition plan be formulated with specific timetables on asset transfer and ownership, and advance planning in case farm family members decide to sever their relationship with the farm business. It is essential that differences between farm family members be resolved in honest and open discussion where each farm family member is able to express their feelings and opinions and feel their feelings and opinions really matter.
Preparation is the key to surviving any one of the five D's. Don't ever grow so smug as to think your farm business is immune. Cultivate honest and open communication among farm family members and non-farm spouses so issues can be addressed before they cause suspicion and distrust to develop and spoil relationships. Assume any one of the five D's is a possibility on your farming operation and plan accordingly. A farm transition and business succession workshop will be held in Bad Axe, Michigan on Aug. 13, 20 and 27 where this and other important farm business tools will be discussed.
For More Information
Read the latest succession planning news and for all your legacy questions check out Ask an Expert, where you can submit your questions to Kevin Spafford, Farm Journal's succession planning expert.