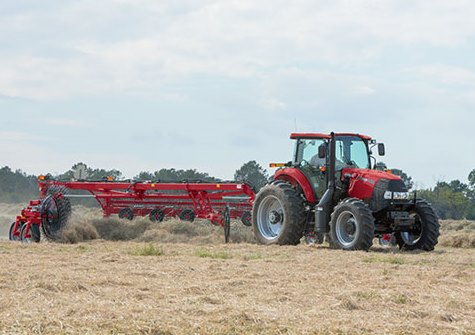 The Farmall tractor brand has been a household name since the 1920s. But Case IH doesn't want farmers to only remember the classic tractors their grandfathers used to drive. Rather, the company has been adding new models of Farmall brand tractors little by little over the past decade. The latest release, the new Farmall 100A series, was announced Feb. 11 at the National Farm Machinery Show.
The tractors should find appeal with livestock farmers, small row-crop farmers and others, says Denny Stroo, Case IH Farmall product marketing manager.
"Versatility is the first word that comes to mind," he says. "It's a robust, simple, easy to operate tractor."
The 100A series features a Tier 4 B/Final-complaint engine with selective catalytic reduction (SCR)-only technology. Stroo says this setup allows it and other Case IH Efficient Power products to meet current emission standards without compromising power or fuel efficiency. He says operators will enjoy other features that include:
Faster throttle response
Improved cold weather starting
Better engine response to load
Quieter operation with less vibration
Improved fuel efficiency
Stroo says the base price of Farmall 100A series tractors includes more standard features than other in its class.
"That brings exceptional value to the customer," he says.
Also on display and new for 2015 was the Maxxum tractor series, which has new improvements that include a Tier 4 B/Final SCR-only engine, LED lighting, better turn radius and double-clutch transmission design for smoother shifting.
"The Maxxum tractor series are exceptional tractors now made even better," says Dave Bogan, Case IH marketing manager. "The new line encompasses product features that help livestock operators and specialty farmers achieve financial success and production efficiency."
Moreover, a redesigned hood and roof is taking the Maxxum line – and possibly other Case IH tractors – in a bold new direction.
"It's a dramatic style difference," he says. "It's going to be the baseline of the new style on all of our new high-horsepower tractors."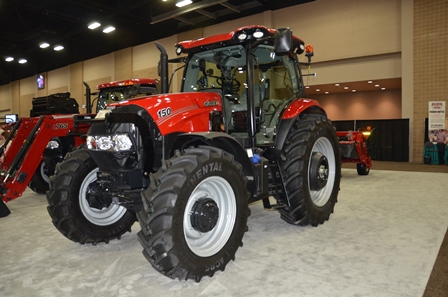 The National Farm Machinery Show runs Feb. 11-14. Visit http://www.agweb.com/national-farm-machinery-show/ for continuing coverage on AgWeb, or follow along in real-time on Twitter by following hashtag #NFMS15.