Better, faster and stronger. Testing new agriculture technology and innovation directly on farms, rather than in laboratories or controlled trials, is producing big yield and serves as the ultimate measuring tape.
When Tennessee producer Grant Norwood partnered with GroGuru, a startup with unique strategic irrigation management technology enabling permanent soil sensor installation below till depth, the result was a major win for both farmer and company. Steered by AgLaunch, an agritech-focused business acceleration program which connects growers and entrepreneurs, the Norwood-GroGuru collaboration is a significant blueprint for farmer-startup efforts.
Across 3,000 no till acres in northeast Tennessee's Henry County, Norwood grows corn, soybeans and winter wheat, with roughly one-third of his acreage watered by pivots and under the eye of GroGuru's strategic irrigation management technology. Over two seasons in 2018-2019, as the company's first row crop farmer partner, Norwood has tested GroGuru innovation: "A farmer working directly with a company is such a big thing," he says. "By starting so early, I got to be a big voice and help shape the technology to get the best product for farmers."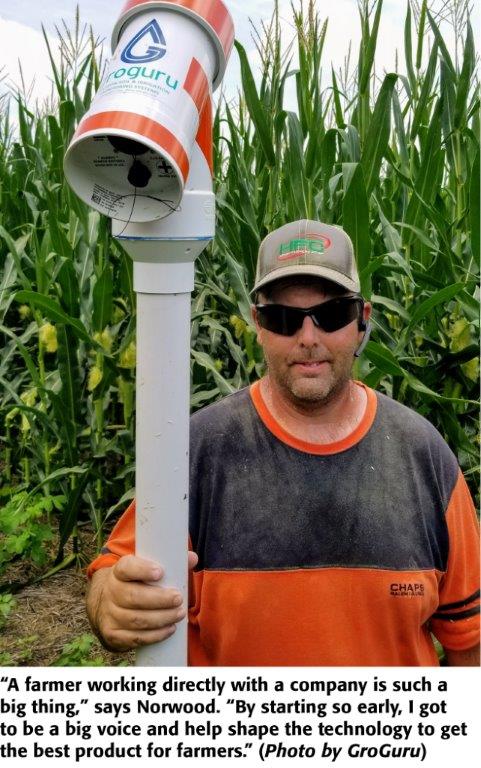 "GroGuru is a really good product and delivers such useful information to me about what is around the root zone—a complete look at what's underground, and I can plant right over the permanent ground sensors."
Patrick Henry, CEO of GroGuru, says farmer partners are invaluable. "We got candid feedback from Grant that allowed us to improve. There is no substitute for being in the field and working while farmers deal with day-to-day problems. You can't find that dynamic in a lab or in field trials that don't directly involve our end-customer—the farmer."
"Through AgLaunch we built a relationship with Grant, built up trust, and then delivered what Grant needed with GroGuru in the second year, partially based on his recommendations. Nothing compares with farmer-testing."
Norwood emphasizes the benefits of a practical payoff for all growers: "The information I provided helped GroGuru with a better product and faster pace. Ultimately, this helps farmers get access to useful technology right at the very beginning of a startup. The experience produced such a great working relationship, and I'm already involved in several other AgLaunch projects."
For more information, see AgLaunch or GroGuru.