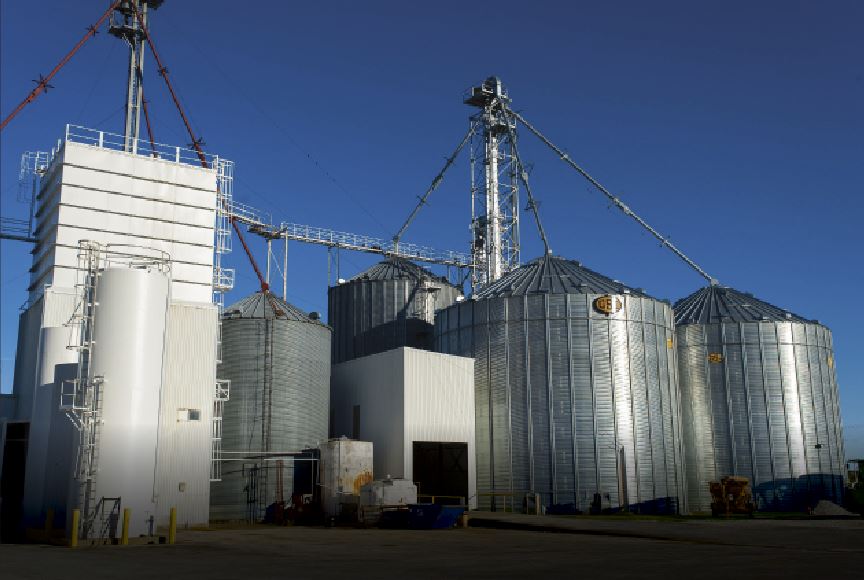 What could China possibly have to do with a wave of mergers sweeping American farm co-ops?
More than you might think, if you ask Todd Ludwig, CEO of the CFS (Central Farm Service) co-op in Minnesota.
"Syngenta is basically the Chinese government, buying a major ag company. That is what is happening out there," says Ludwig, referring to China National Chemical Corp.'s $43 billion takeover of the Swiss agrochemical company, which must be approved by U.S. regulators.
American farm co-ops are coming under pressure to merge from global competition, falling farm incomes, ag industry consolidation and a growing need for specialized talent, according to co-op leaders.
Farmer-owned cooperatives historically have bought grain from farmers, storing it in elevators until it was loaded for shipment. But today, many co-ops do much more than store grain and sell fuel, fertilizer and pesticides.
Co-op executives say their businesses are being affected by the same economic pressures and opportunities facing other businesses, from globalization to economies of scale..
"Why would co-ops be any different?" Ludwig asks. "As a whole, the industry is consolidating. With consolidation, the competition gets stiffer."
As farm operations have increased in size and scale, co-ops have had to do the same, according to Ludwig. "We're competing against big multinationals--ADM, Cargill--that are doing $100 billion in sales. We have to compete against that."
CFS is an example of such consolidation. The March 2016 merger of the Wantonwan Farm Service, in Truman, Minn., and the Central Valley Coop, in Owatonna, Minn., formed CFS, with 28 locations, and 6,000 voting members.
The combination of those two Minnesota co-ops into one is just one of the many that has contributed to a steady decrease in the number of farm co-ops over time. Over the past four decades, the number of co-ops has fallen from 6,445 in 1979 to 2,186 in 2013, according to government statistics.
But they remain an economic force. In 2013, those co-ops reported a record $200 billion in business, according to USDA. 
Even as farmers are taking a hit from falling incomes, co-ops have "very strong balance sheets, thanks to farmers coming off a boom when crops were wildly profitable," says Brian C. Briggeman, professor at Kansas State University's agricultural economics department.
Cooperatives, like other businesses, can close or convert to a different business structure.  "However, in most cases, a decrease in the number of cooperatives is because of mergers," according to Philip Kenkel, a professor at Oklahoma State University in Stillwater, Okla.
There also is an element of "group think driving the current wave of consolidations," Kenkel adds. "There are really lots of factors, some of which contribute to the question of 'why merge' and some of which relate to the question of 'Is there any reason we shouldn't merge?'"
In addition to trying to capture the economies of scale that come with a merger, co-ops are also looking for ways to handle the higher yields from changing cropping plans, narrower corn rows, and bigger trucks and equipment, according to Michael Boland, a professor at the University of Minnesota. "There has been a huge change since 2004," he says.  
In Kansas alone, the number of co-ops has fallen from 350 in the 1950s to around 80 today, according to Briggeman. The numbers have plummeted even more in Oklahoma, from 243 in 1980 to only 50 today, Kenkel says.
How far will it go? "The impact of co-op consolidation is to be determined," Briggeman says. "Every state is different."
Yet, despite all the pressures to combine forces, some co-ops buck the trend. That's what happened last year, when a management-favored merger of two large South Dakota co-ops—North Central Farmers Elevator and South Dakota Wheat Growers Co-op, both of Aberdeen, S.D.-- failed to gain enough votes.
Both co-ops' boards had approved the merger. But the 2,500 farmer members of the 100-year-old North Central Farmers Elevator weren't having it.
As a result, the members of the smaller co-op voted the proposal down, and the deal failed."Their biggest objection was losing a competitor," says Steve Briggs, senior vice president, agronomy and corporate marketing for the 5,400-member South Dakota Wheat Growers Co-op, which is nearly 100 years old as well. "They thought that prices would go up, and what we paid them would go down."
What's happening with farmer co-ops in your area? Let us know in the comments.