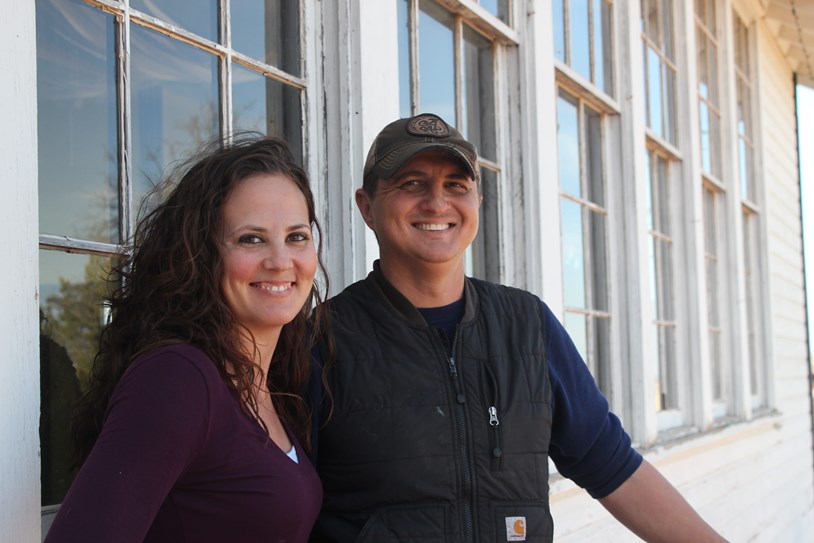 Aaron Base was lost in his own back yard, rolling down a lean west Oklahoma county road when opportunity beckoned and forced his truck to the shoulder. An empty, one-room tribal schoolhouse sat in isolation, with six 9-foot-high windows along one side. Echoes of the 1920s bounced from the walls, and the attic hid a graveyard of old desks from toddler to teen. Several weeks later, the schoolhouse was perched on Base's farm, a permanent part of a unique transformation.
What can a farmer drop in the planter when prices are poor? Aaron Base's planter has room for the 1928 schoolhouse, wine, wheat, weddings, Airbnb, grass fed beef and a 1964 Airstream. Revenue beyond the rows can be crucial to an operation, particularly in lean commodity years, and Base is bucking convention by tapping the vein of side-stream income.
Base, 42, farms a thousand acres typically split 60-40 between wheat and grass pasture in Geary, OK, at Base Vines & Cattle. Just a tad east of Base, soybean production is common; and corn and grain sorghum are standard. But with no reliable irrigation and minimal rainfall, Base sticks to wheat and shies away from other rotational crops. (His cattle graze on the wheat crop in winter.) The rolling hill country around Base is dotted with oil pads and is still divided in quarter sections or 80s as it was in the Land Rush of 1889, but congealment into bigger farms is ongoing. The acreage break-up is home to small herds separated in grass traps and canyons.
Raised on a traditional cattle and wheat farm, Base graduated from Oklahoma State University with a degree in agriculture and came home to farm in 1998. He rented his grandmother's land and used his father's equipment in exchange for labor. Cattle prices were anemic; wheat prices at $2-plus were arguably worse: "I got in farming when prices were low and it helped by making me learn," Base says.
In 2007, the lure of additional income gnawed at Base during long hours in the tractor cab, and he began searching online for financial opportunity. "Books, media, and online … I exposed my mind to everything I could find that might work," he says.
At the same time, Base's wife, Jennifer, began taking viticulture classes as a hobby pursuit, and the pair began traveling to wineries and tastings. For the first time, Base learned about possibilities for grass fed beef and a framework fell into place. Base is the face of the operation's side-stream ventures and Jennifer is the logistical captain. (She also teaches high school math part-time.)
Base planted 600 grapevines on an acre of land and hauled in the old schoolhouse to house a winery. Best laid plans shifted and he bought a small store in Geary for the winery and tasting room. "Making wine isn't rocket science," Base explains. "We press and make wine behind the winery and bring it inside to our tanks."
Festivals, word of mouth, and social media all played a role in the kickoff, but the real ticket for business was a roadside sign at each end of town. Geary sits just off Highway 281 and only a few miles from I-40 and Route 66, enabling Base Vines to catch tourist traffic and the Oklahoma City (40 miles away) crowd. Jennifer opens the tasting room on weekends and sells wine direct, partly because Oklahoma state law doesn't allow online wine sales.
What about the schoolhouse? The Bases renovated the entire thousand square foot structure, adding a deck and placing the building above a 30-foot bluff rolling toward a valley dotted with cattle pastures, wheat fields, and blackjack oaks.
During a typical afternoon in the tractor cab, shortly after the renovation in 2014, Base heard a radio advertisement for Airbnb, an online marketplace for vacation or travel rentals. Within a week, the schoolhouse was posted on Airbnb as no-frills lodging in a farm and country locale. Three years later, excluding the dead of winter, the little schoolhouse is in consistent demand. "Our customers are split between coast-to-coast travelers and city people wanting to get away. No television and no distractions. Anyhow, once you look out from the deck, it's nothing a TV can compare with," Base says.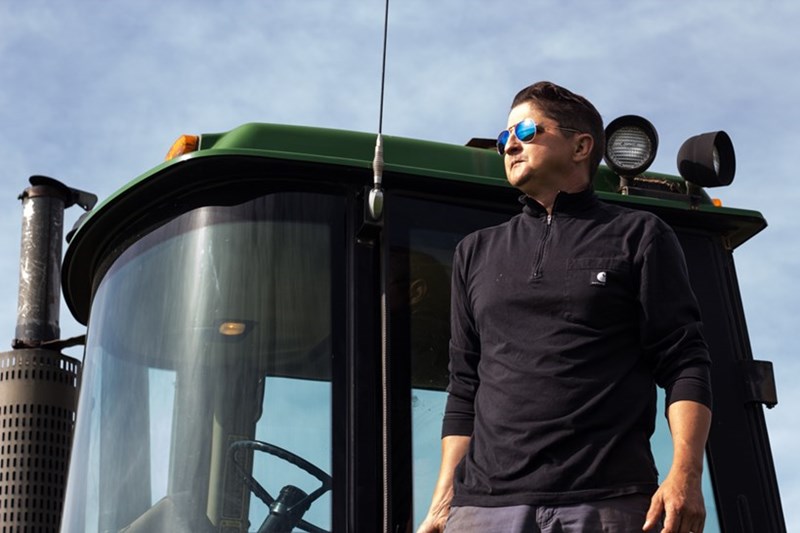 The schoolhouse also serves as on-farm event center for weddings, birthdays, and family reunions. When outdoor wedding demand picked up, the ceremonies required space beyond the schoolhouse, and Base began hunting for a mobile bridal suite, finding a 1964 Airstream trailer in the Texas Panhandle and hauling it home for renovation. (Base is currently adding a pole barn for additional space.) "We haven't had to advertise the schoolhouse for events. Word of mouth has been strong and surrounding townspeople show up," he says. "Our audience is local for events, but we generally target Oklahoma City for Airbnb, wine and grass fed beef."
Grass fed beef expansion came in tandem with the winery establishment. Base was attracted by the minimal investment in infrastructure and out-of-pocket costs. There was no risk of a new crop and new equipment, he says: "I just had to make changes with what I already owned to make a new product I already knew people wanted."
Base a uses a shotgun approach to market his grass fed beef, selling quarters and boxes. "There are so many people who have seen grass fed beef in a magazine, but don't know any farmers selling it," he explains. "They find Jenn and she sells more than me."
Most of the Bases' grass fed beef is sold directly out of the wine tasting room, according to Jennifer. "I guess you would say those are sales that found us," she explains. "The boxes are sold to people that we or our friends know. The quarters have generally been sold by Aaron, usually by broadcasting on Twitter."
Farming niches are atypical in Base's area, but he hopes to continue expanding with more Airbnb options. Cross promotions between wine, grass fed beef and Airbnb are a natural fit, according to Base, and customers often purchase multiple products and services.
For any operation considering a supplemental income route, Jennifer says the angles can't all be determined until the venture is in place. "Do some research, but don't think on it forever because there is never a perfect time. Many things you think will be problems are fine, but things you never thought of will surprise you, for the good and the bad," she explains. "Don't be afraid of change and enjoy the ride. Clichés? Yes, but apt."
Producer Joe Mills of Mills Livestock, raises non-GMO fed cattle in Montgomery County, Ind., and says Base has tapped a niche market: "He's made the decision not to accept the 'because that's what my dad did' model and has done an excellent job thinking outside the box by adding a couple of ventures that his farm can benefit from. People looking for other ways to be profitable should definitely be watching Aaron."
Mills carries his own reputation for innovation and essentially established a foothold in agriculture with freezer beef. In 2014, he began growing conventional corn and selling non-GMO fed beef, later partnering with Triton Brewing Company to feed all the Indianapolis-based business' spent grain.
The current farming market propels young producers towards side-stream income, according to Mills. "It's pretty tough for a young producer to say, 'I'm going to grow corn and soybeans and make a good living.' You have to be able to identify other markets and demands. Right now the local food movement and labels like non-GMO are huge. What side you are on doesn't matter, but what the consumer thinks does matter, and 99% of the time, you aren't going to change the way they feel, so why not provide a premium product they want? It could be beef, pork, wheat for flour, wool … anything."
Any regrets for Base? "I wish I'd been exposed to other farm revenue possibilities earlier in my career. I really started at 32, but could have sure used the energy from my twenties to learn more alternative farming routes," he notes.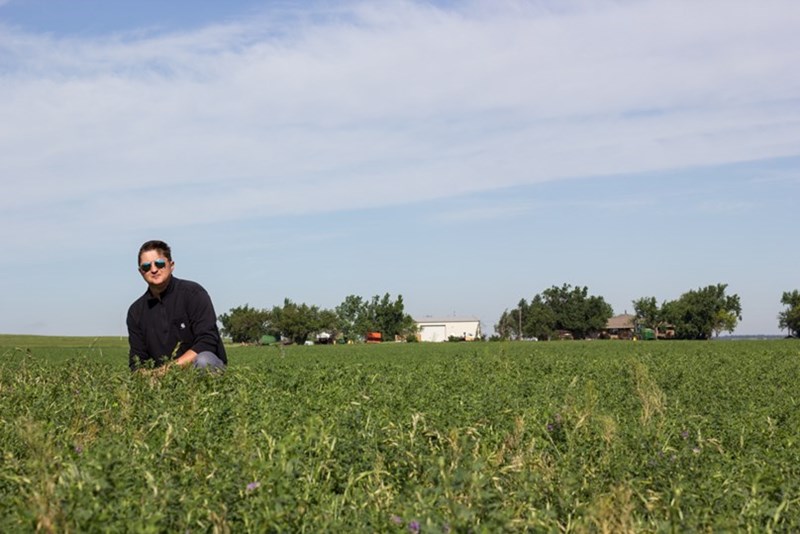 Base emphasizes that seed is not the only viable option to place in a planter, and alternative revenue is a means to provide financial breathing room: "This is about options and finding a way to support an overall operation. Take a look and you might be surprised at what's out there."
"Some farmers may not want to associate with a chef looking for a particular product or a soccer mom from the city looking for a quarter of beef," he adds, "but I'm not going to only stick with what I know and I'm never going to quit learning."