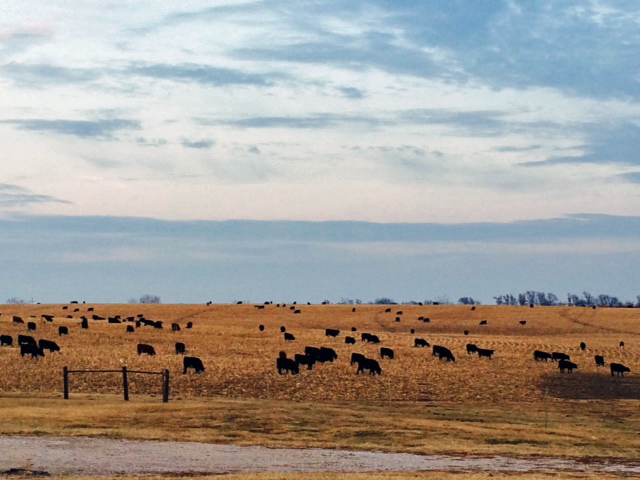 By James Q. Lynch, The Gazette, Cedar Rapids, Iowa
Iowa is widely known for its corn and hogs. Less well known is that livestock and farm commodities, most often at remote rural locations, often are an easy target for thieves.
In Iowa, there were more convictions for livestock and farm commodity thefts than for car theft in 2011 -- the last year data was available, according to the Legislative Services Agency.
Although he isn't calling for hanging cattle thieves, state Rep. Lee Hein wants to increase the penalty for farm-related theft.
"Maybe I'm just a farm boy, but I think I can steal livestock way easier than I can steal a car, and the chances of getting away with it are a lot better," the Monticello dairy farmer said.
When a car is stolen, the owner knows it's gone, but Hein said he's been off by 10 to 15 head when he has sold hogs, "and I wondered if I miscounted, or did someone slip in there late at night and load up and abscond with them?"
The "poster child" for beefing up farm theft penalties is a case out of Jones County where a farmer lost 18 1,400-pound beef cattle. The thief was charged, convicted and fined $1,000 -- with no jail time -- despite having stolen nearly $30,000 worth of cattle.
"It's pretty easy to steal $10,000 of corn or soybeans or a trailer load of cattle," Hein said.
Even when the thief is caught and restitution is ordered, "it can take a long time for a farmer to get his money back," said Cody McKinley, policy director for Iowa Pork Producers.
Hein is pushing for approval of a bill that would retain the top penalty of up to 10 years in prison and a $10,000 fine for thefts of $10,000 or more. It also would add a 30-day minimum sentence for felony theft of farm commodities and livestock.
But that's drawing opposition from some quarters.
The Association for Justice calls the change unnecessary because livestock and commodity theft is covered by current statutes. In general, the Association for Justice opposes mandatory minimum sentences, said Matt Lindholm, a West Des Moines attorney associated with the group.
"If a judge wants to impose a 30-day sentence or the county attorney wants a 30-day sentence, you make the charge fit the crime and the punishment fit the charge," Lindholm said.
In 2011, LSA reported, there were 428 convictions for the theft of farm commodities and livestock. There were 407 convictions for vehicle theft.
LSA found that in 407 of the 428 farm theft cases, the convictions were for aggravated misdemeanors resulting in sentences of up to two years. On average, the perpetrators spent 52 days in jail.
The minimum charge is a misdemeanor and leads to 30 days in jail and a $625 fine for less than $200 worth of property stolen.
Hein needs to get the bill approved by the House Ag Committee this week to survive the Legislature's self-imposed deadline for action on bills. It likely will go to the Judiciary Committee before going to the full House.
"The biggest thing I want is to let (the committee) understand that this is a bigger issue than we realize," he said. "Maybe we need to start figuring out ways to, unfortunately, put up cameras or start locking things up way tighter."
Many producers take precautions -- installing cameras and lights around livestock facilities, McKinley said. Livestock producers also brand cattle and use ear tags and ear-notching to identify and track their animals. However, he says, most producers believe that as long as the animals are in their "custody and control" -- in a pen, building, fenced pasture, for example, they should not have to incur those expenses
Hein laughs when asked about returning to the practice of hanging rustlers.
"There might be some who want to do that," he said. "That might be the way to get the point across."
What do you think of the current penalties for stealing livestock and grain? Do they need to be tougher? Will that work? Let us know on the AgWeb discussion boards.