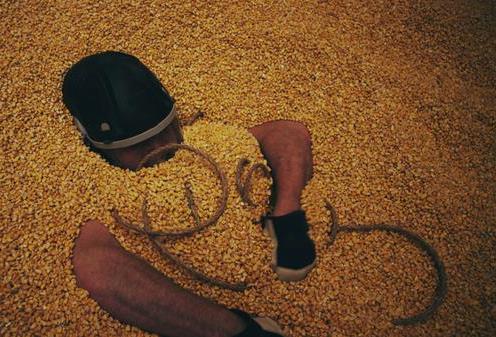 As farmers know, they have one of the most hazardous jobs in the country, and this weekend, a national television show brought that danger to life.
On Saturday, the ABC show In An Instant shared the miracle story of a New Providence, Iowa, farmer who was buried alive with 18 inches of corn covering his head. During the episode Arick Baker, his family and the first responders retold the accounts of his rescue from an 80,000-bushel grain bin.
"On a farm you are always around dangerous things," Arick says. "What I was doing is by far the most dangerous thing a farmer can do." 
He's right about the dangers of farm work. According to in 2012, 374 farmers and farm workers  died in work-related accidents, according to the Centers for Disease Control and Prevention. That's approximately 20.2 deaths per 100,000 workers.
Buried Alive
Arick's close call happened on June 26, 2013, when he climbed into a grain bin on his family's farm to break loose a layer of moldy corn so the grain could be hauled to the co-op.
"Typically, if everything works like it is supposed to you don't have to get in a grain bin," says Rick Baker, Arick's father. "So many things can go wrong."
Arick, who was 23 years old at the time, entered the bin with a piece of PVC pipe to knock down the layer of rotten corn. Rick climbed to the top to watch Arick, who was tied onto the ladder. Rick then left to shut off the auger and move the truck forward. While his father was away moving the truck, Arick poked one more time into the corn.
"I made the rotten shelf of corn collapse. When that happened, I actually fell through the corn," Arick says.
An adult can sink knee-deep in corn within 4 seconds; at this point they can't free themselves. At 20 seconds they will be completely engulfed.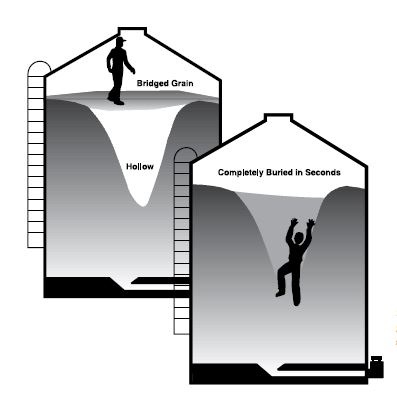 Arick began to sink further and further into the corn, but Rick, who was in the truck, could not hear Arick's screams for help.
Before Rick left to take the grain to the co-op, he looked one more time through the mirror of the semi and assumed his son would be safe because there wasn't much corn left in the bin. The father then left for the co-op, which would mean he'd be gone for the next two hours.
During the drive to the co-op, Rick made several calls to Arick that went unanswered. The father then sent someone to look for his son, but Arick was nowhere to be found, and 911 was called while Rick was stuck in line with a load of corn at the co-op. 
Panic,  Then a Plan 
"At first it was a lot of panic," Arick says. After five minutes of being trapped, though, he stopped panicking and began to notice that the more he moved, the further he sank. The bin was also stiflingly hot inside: 137°F.
He came up with a plan and decided he would remain still--Arick knew the schedule of the semi trucks, so he knew someone would come by the bin soon. But that had its own risks. "The thought that kept haunting me was that the second that first semi-truck driver gets back, he's going to start that auger for the grain bin. I knew that would be game over for me," Arick recalls.
Others were worried too. 
When first responders reached the scene, it was with the thought that they would be doing a body recovery, not a rescue. Purdue University has analyzed grain entrapments, and from 1964 to 2005, nearly 74% of entrapments were fatal. But the number of fatalities has dropped in recent years, thanks to first responder training and use of specially designed rescue tubes. In 2008 and 2009, fewer than half of grain entrapments resulted in death. 
In Arick's case, he was helped by a rescue tube, but what probably saved him was a specially designed helmet that helped him breathe. The helmet had a full face mask with a cloth back. It was battery-powered with two ventilation systems that circulate oxygen through the helmet's system.
The rescue crew also cut holes in the sides of the grain bin to release more corn and help retrieve Arick.
"During our page, they indicated to us he had been under the corn for over an hour," says Rick Gustin, the local fire chief. "Typically, nobody is going to survive that. Nobody can survive being completely buried under grain without air for a few minutes, let alone over an hour."
Fortunately, Arick beat the odds and made it out of the bin alive, thanks to the efforts of the first responders.
In Case You Missed It
Here is a preview of the episode:
To immediately watch the full episode, you'll need to enter your TV provider's information, otherwise it should be available on Sunday. The episode is also on Hulu.

Did you watch the show? If you have join in on the discussion.