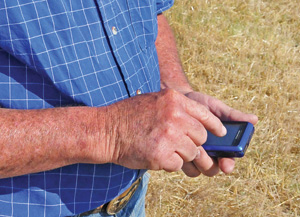 While adoption started off slow, farmers continue to increase their use of mobile technology. A recent survey conducted by AgWeb.com and Commodity Update found that while only around half of farmers surveyed currently use a smartphone or tablet, several plan to adopt the technology in the coming year.
The study surveyed more than 800 farmers and found that 47% currently use a smartphone. Around 70% of smartphone users are 1000+ acre farmers and half of them have owned their smartphone for more than two years.
They reported using their phones for calls, text messages, emailing, mobile web browsing, app usage and social media. Android and iPhone devices are neck and neck for the most-used phone by farmers, and 86% of those surveyed said they own one of those two devices.
Of the farmers who took that survey that don't currently use a smartphone; 17% plan to upgrade in the next six months.
Only 20% of the surveyed farmers reported currently using a tablet, but of that 20% the majority of them own an iPad. More than half have purchased it within the past year. Another 9% of the surveyed farmers plan to purchase a tablet in less than six months.
To discover apps for your smartphone or mobile device that would be helpful on your farm, check out the AgWeb App Store.