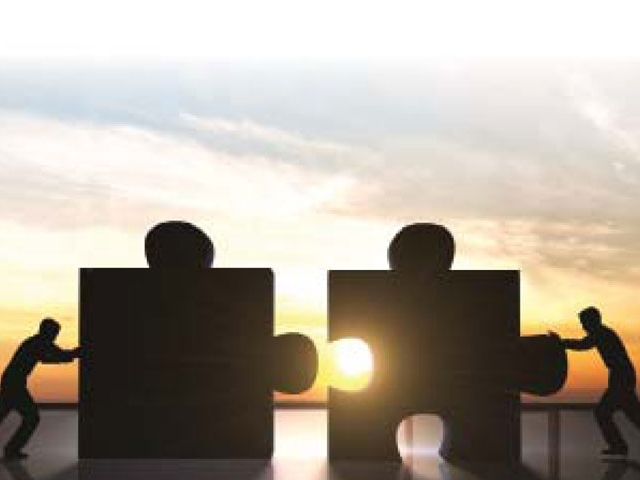 Comments and survey reveal farmers unconvinced the deal would benefit them
Farmer reaction to recent news of ChemChina's plan to purchase Syngenta calls to mind the common term "cautiously optimistic." However, there was a lot more caution than optimism when radio host Mike Adams invited a farmer panel to discuss the deal on "AgriTalk."
"I don't know that I know enough about it to definitely be suspicious, but my gut says to be suspicious when China is involved," commented Indiana farmer Don Lamb on the program. "It's also hard to tell what's progress and what's not progress when it comes to mergers and acquisitions. It makes me nervous. There's many times it doesn't work out for the end customer."

ChemChina is working on a deal to purchase Swiss-based Syngenta in a transaction that would make the Chinese company the world's largest supplier of pesticides and chemicals for the agriculture industry.

U.S. farmers also voiced concerns about the arrangement in a Farm Journal Pulse survey, in which more than three-quarters of the 1,644 farmer–respondents reported feeling "negative" or "very negative" about a Chinese national company buying Syngenta (see full results at right).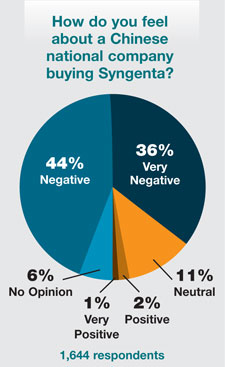 The results are consistent with a similar Pulse vote in 2015 asking about a potential Monsanto Company acquisition. Farmers overwhelmingly prefer "as-is" over mergers and acquisitions.

Angie Setzer, vice president of Grain for Citizens and a popular blogger on grain marking issues, says farmers have every right to have mixed feelings over the potential Syngenta acquisition, especially in light of China's prior rejection of grain containing Syngenta's MIR 162 trait.

"At this point, the biggest beneficiaries of this deal are Syngenta, their stakeholders and the Chinese government," Setzer says. "What it means for the U.S. farmer when it is all said and done will remain to be seen."
But Syngenta says there's a better question farmers should ask: How do they feel about Syngenta remaining intact during an era of consolidation?

"Through this deal Syngenta remains Syngenta—intact, ensuring continued choice for growers at a time when considerable consolidation is taking place in the agricultural industry," says Paul Minehart, head of the company's North America corporate communications. "Syngenta will continue to be a strong competitor in the marketplace, and Syngenta management will continue to lead all aspects of the business, including delivering high-quality products to American farmers."

That includes an ongoing investment in research and development across technology platforms and crops, Minehart says. "Customers will access the same high-quality portfolio of seeds, traits and crop protection products," he adds.