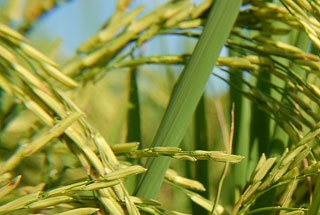 U.S. rice acres will be down substantially from last year as the nation's rice producers battle weather extremes—drought in California and flooding elsewhere.
For all practical purposes, the nation's rice is planted. Rice planting is right on schedule or ahead of the five-year average in California, Louisiana and Mississippi, but lags in Texas, Missouri and Arkansas. Rice has been slow to emerge in Texas, where only 85% of the crop had emerged as of May 31, compared with the five-year average of 99%.
While flooding in Texas has been anything but funny, some county agents have started to joke that some producers will soon be planting one-minute rice if there isn't enough time to grow it based on delayed planting, said Dawson County AgriLife Extension Agent Gary Roschetzky in a recent news report. While Texas is not a large rice-growing state, its rice-growing region is just south of Houston, an area of Texas devastated by heavy rains in May.
Flooding has also been an issue in the country's top rice-producing state of Arkansas. Nearly half of the nation's rice is grown in Arkansas, and some growers are still waiting for fields to dry out enough so they can plant.
"We got a lot of rain this spring," says Chuck Wilson, extension agronomist and rice specialist with the University of Arkansas. He expects the state's rice plantings to come in about 50,000 to 100,000 acres less than last year's 1.27 million acres.
"As far as the rice that's come up, we've had some flooding issues," said Wilson. "The rivers are near, at, or above flood stage, and we've had some rice go under water. Those producers are now deciding whether to replant, but the water's still rising."
Heavy rains in Texas, Arkansas, and southern Missouri have also brought more moderate temperatures, which have delayed growth in newly emerged fields.
"Every year there are issues," Wilson said. "But overall, I think we are in pretty good shape in Arkansas."
Meanwhile, Californians are praying for rain.
"There have been significant acreage reductions in the Sacramento Valley, where 97% of the state's rice is produced," says Jim Morris, communications director for the California Rice Commission (CRC). While this year's official rice plantings are not yet in, Morris said last year's plantings were down 25% from a normal year at 434,000 acres due to severe drought that has now gripped the state for four consecutive years. CRC expects another cut in this year's rice acreage.
USDA's latest estimate for California rice plantings was 408,000 acres. Morris is not sure how that will correspond to the final number, but he says the commission expects another year-over-year cut in the state's rice acreage.
"USDA's estimate came out before the final water allocations were made this year," said Morris. The minimum water cutbacks this year in the rice-growing regions of California were 25%, but some regions were cut by 100%, noted Morris.
For instance, along the Sacramento River, some rice growers received no surface water allocations, while those with senior water rights received 75%.
How are your fields coming along? Send your comments, photos and videos to AgWeb's Crop Comments section.