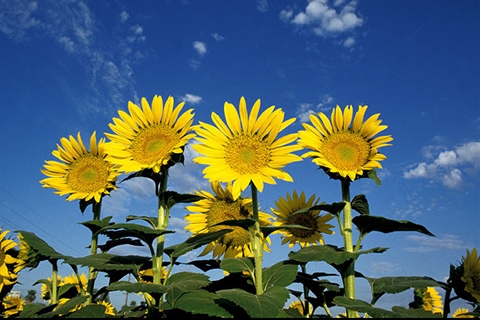 Corn, soybeans, and wheat might give up some acres this spring to a host of alternative crops, including sunflowers and peas, in the fringe areas of the Corn Belt.  
"Some alternative crops will get acres, but those acres will be spread across several crops—peas, lentils, and flax," said John Weinand, president of the North Dakota Grains Growers Association in West Fargo, N.D.
Why the interest in alternative crops? With corn and soybean prices running below the cost of production, profits for many producers are expected to be slim to nonexistent.  As a result, many producers are considering consider alternative crops like barley, peas, lentils, flax and others.
Unfortunately, profitability for many of these other crops, such as barley, is also poor.
"The only real market for barley is malting contracts, and they have been cut in half," said Weinand, who grows wheat, barley, and peas on his farm in Hazen, N.D., about 70 miles northwest of Bismarck. "My 2016 contracted acres will be half of last year's."
He said feed barley is bringing $2.25 per bushel, about half of what malting barley at $4.75 per bushel is bringing in western North Dakota. As a result, few farmers want to grow barley to sell on the open market.
Weinand expects barley will lose acres this year to other alternative crops.
"I sell peas, and I have had a lot of interest. I am already sold out," he said. "There could also be an increase in sunflowers. I don't think wheat acres will change a lot. It is a familiar crop, and this is good wheat country. You have to stick to some of the basics."
He could be right about sunflowers.  
"Definitely sunflower acres are going to be up, especially for the oil varieties," said John Sandbakken, executive director of the National Sunflower Association in Mandan, N.D. "It cash-flows pretty well."
Last year, U.S. producers grew 1.8 million acres of sunflowers, primarily in the Dakotas and other Great Plains states. This year, Sandbakken estimates that growers will plant 2.1 million acres of sunflowers.
Oil processors are offering act-of-God contracts on sunflowers, which eliminates some of the growing risk. For example, Sandbakken said that if a producer contracts for 1,000 pounds per acre but can only deliver 800 pounds, the undelivered 200 pounds are forgiven.
New-crop sunflowers are currently priced between $16.70 and $17/cw. throughout the sunflower-growing region.
Does this mean corn acres will fall in 2016? Jeff Coulter, an agronomist with the University of Minnesota, doubts it, at least for farmers in the Upper Midwest.
"In my talking with growers, I haven't heard of big changes in acreage this year like I have in previous years," sad Coulter, who expects corn acreage to remain close to last year's numbers.