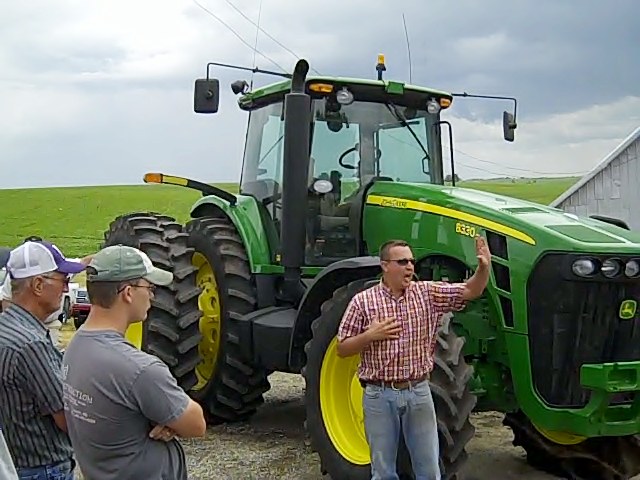 It looks like farmers will get to go Christmas shopping for new machinery this year after all.
Last night, after days of waiting, the U.S. Senate voted 76 to 16 to approve H.R. 5771, a $42 billion package of tax breaks, including the popular Section 179 deduction on business equipment and farm machinery. The bill now goes to the White House, where President Obama is expected to sign it within days.
"Today's passage of the tax extenders bill is a welcome relief to farmers as we close our books on 2014," said Wade Cowan, a farmer from Brownfield, Texas, and the new president of the American Soybean Association. "While it's not the long-term fix we need, the legislation does include the dollar-per-gallon biodiesel tax credit, expensing for farm equipment and infrastructure under Section 179, and bonus depreciation on farm assets, all of which provide greater certainty and a more stable climate for the farmers and producers who make use of these programs.
The American Farm Bureau Federation expressed similar sentiments. "Thanks to tax provisions like Section 179 small business expensing and bonus depreciation, hard-working Americans will be free to put their money directly back to work on their land and in their local communities," said Bob Stallman, the federation's president.
Farm machinery groups also applauded the decision, with caveats.  "I'm pleased that Congress finally took action to approve an extension of a series of vital tax provisions that help support manufacturing and jobs in the United States," said President Dennis Slater, president of the Association of Equipment Manufacturers. "While this action is welcome, it is also long overdue. Equipment manufacturers and their customers shouldn't have to wait until mid-December to learn what their tax obligations were for virtually the entire preceding year."
Still, a late-breaking retroactive extension still appeared to be better than the alternative. "While we would have preferred a more permanent solution, we applaud Congress for passing the tax incentives package including the extension of Section 179," said Jim Walker, vice president of Case IH in North America. "This one-year extension allows producers to move forward with the purchases of large equipment and other capital investments they had been contemplating while the bill was in limbo. This may provide a small boost to year-end sales at our dealerships, although we encourage Congress to pass a long-term version in 2015."
Hot Sellers
As Case IH's Walker noted, the news is expected to provide a purchasing push for those farmers and livestock producers who may have been on the fence about buying new equipment in 2014.
"Values on good used livestock-related equipment will soar higher through end of year," predicts farm equipment expert Greg "Machinery Pete" Peterson, who expects hog and cattle producers to be active shoppers this December.
Thanks to strong pork prices and record highs for beef, livestock farmers will have money to spend and tax liability to reduce as the year comes to an end. He expects skid steers, livestock trailers, manure spreaders, forage choppers, hay-related equipment such hay balers, rakes, discbines, and cattle equipment such as squeeze chutes and loading chutes to be in high demand.
Other types of farm machinery may not be as hot, thanks to the level of investment that many corn and soybean farmers have made in recent years. "I don't know how much pent-up demand there is out there," said Paul Neiffer, a principal with accounting firm CliftonLarsonAllen and the FarmCPA blogger who has been closely following the Section 179 legislation through Congress.
Row-crop farmers who have had a year of lower grain prices also may not have as much to spend, but Peterson says there are still good values available for those who want or need to upgrade. He said there are "tremendous buying opportunities" on recent model (one to five years old) large used equipment such as four-wheel drive tractors, 250-plus horsepower tractors, combines, self-propelled sprayers, and large planters whose prices have been under pressure this harvest. "Buy newer and bigger than you'd imagined you'd get into," Peterson said, because "falling values bring them into play now."
Those who are unwilling or unable to invest in equipment this month shouldn't worry too much, according to Peterson. "Buying opportunities will only get better as '15 rolls along," he said. "Historically the period from mid-March to July has been a great time to buy [due to] softer auction sale prices. [We are] also likely to see more auctions in '15" as more grain farmers decide to retire.
Short-Term Planning
As relieved as farmers and machinery companies are about the Section 179 tax extension for 2014, they remain frustrated at Congress's short-term approach to the issue.
"Equipment manufacturers are a perfect example of the types of businesses that are affected by these tax provisions," said Slater. "AEM members closely monitored the debate over Section 179 expensing, bonus depreciation and the R&D tax credit because, for them, this debate wasn't an abstraction--it's a matter of real dollars and cents."
The same goes for farmers. "These aren't solutions that benefit farmers in some years and not in others; we need them every year on every farm," Cowan said. "So we encourage both chambers of Congress to come together and find a solution that extends these beneficial provisions for the long term. What we need is certainty in the tax code, not a guessing game."
Stallman agreed. "Farmers and ranchers need more than just a temporary tax fix, however," he said. "They need certainty that these provisions will be there in the coming years as they make long-term business decisions. Farm Bureau looks forward to working with Congress to ensure agriculture can count on these tax provisions not just this year, but every year."
Ironically, senators seemed to have the same issues with the time-sensitive nature of the extension, according to a story in Politico. "This tax bill doesn't have the shelf life of a carton of eggs," said Senator Ron Wyden (D-Ore.), who chairs the Senate Finance Committee and voted 'no' on the bill. "The only new effects of this legislation apply to the next two weeks."