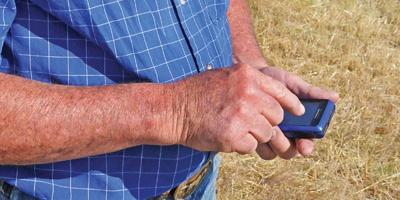 1,800 surveyed to find which mobile apps were most popular
Never accuse farmers of being afraid to use new technology.

According to a recent Farm Journal survey of more than 1,800 farmers, 59% use a smartphone and 44% use a tablet. That rate is slightly ahead of the national average.

The Farm Journal survey also asked farmers to list the apps they use regularly on their mobile devices. Here are the top 10 unaided most popular apps, according to the survey

Honorable mentions: SoilWeb, Tank Mix Calculator, DTN Weather, Cash Grain Bids and agIndex.
1. AgWeb. Featuring markets, news and weather, you'll get your fill with this award-winning app. Plus, sign up to get free market quotes from Commodity Update, listen to top industry radio shows, including "AgriTalk" and "Market Rally," and more. Customizable content makes for a truly interactive experience, as users can prioritize news categories and select from several types of weather maps, including radar, satellite and temperature.
2. Weed ID. (Or ID Weed?) A small quirk in the survey, farmers didn't specify if they were referring to BASF's Weed ID app, Monsanto's Weed ID app or the University of Missouri's ID Weeds app. Either way, these three apps help farmers identify which pesky weeds have invaded their fields, so they can dial in the herbicide active ingredients and rates that will get the job done. Consider downloading all three and keep the one you personally like using the most.
3. Climate Basic. From The Climate Corporation, Climate Basic enables users to track up-to-the-minute, field-level information such as current and future weather, soil conditions and crop growth stage. They can also add notes and set alerts for each field. 
4. Farm Futures. From the makers of Farm Futures magazine, this app provides a no-nonsense, quick-hit look at the day's top industry headlines, commentary, futures quotes and audio podcasts.
5. TractorHouse. Buying or selling a tractor? This app lets users browse and sort through thousands of listings. Drill down to find the exact make and model you're looking for. The app also can sort results by location and display the for-sale equipment nearest you. One online reviewer says, "You'll find your [next] machine flat out easy and fast!"
6. Pioneer/Encirca View. Launched earlier this year, Encirca View lets farmers record field observations, which are automatically georeferenced for their convenience. Paired with the Encirca View website, users can also access "Community View," which shows aggregated data from a community of Encirca View users.
7. Ag PhD App Suite. From the South Dakota brotherly duo of Darren and Brian Hefty comes several farmer app favorites, including Field Guide, Fertilizer Removal by Crop, Drainage Calculator, Planting Population and Harvest Loss Calculator. Of these apps, farmers mentioned the Fertilizer Removal by Crop most frequently.
8. Weather Apps. Unfortunately, the survey respondents rarely listed which specific weather app they prefer. For a broad category like this, our standard recommendation is to download several apps, keep the one you like best and delete the rest. The technology website TechHive did a recent write-up of their favorite weather apps for Android devices that might be helpful too.
9. FarmLogs. This is an app that deploys a "more is more" philosophy when it comes to functionality. Farmers begin by collecting and logging detailed information on a per-field basis. They can make task lists, track rainfall history, plan and budget as the season unfolds, and manage inventory.
10. Grower's Edge. This app offers a variety of functions, including access to cash prices and market quotes, market commentary, weather and news. One online reviewer calls it "one of the most handy tools to have in ag."
To cut through the clutter and dig directly into dozens of farming app reviews with the AgWeb App Finder, visit http://www.AgWebAppFinder.com