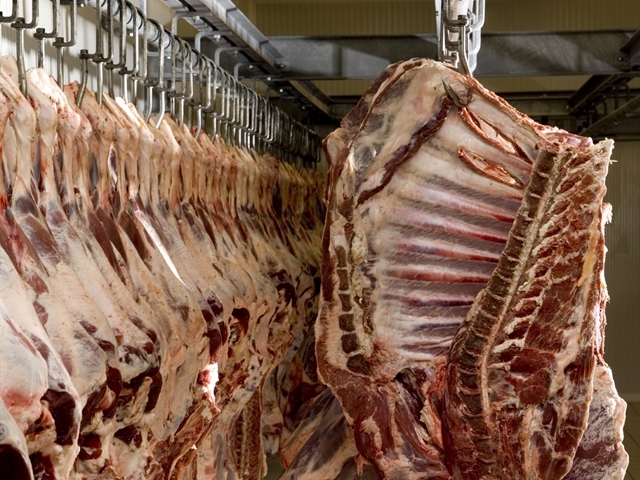 Colombian beef producers remain shut out of the U.S. market at a time of record prices as the porous border with Venezuela compromises efforts to control cattle disease, according to Colombia's cattle farmers federation.
Cattle smuggling along the 1,400-mile frontier risks spreading foot and mouth disease, and prevents Colombian farms from taking advantage of the recent free-trade pact with the U.S., the National Federation of Cattle Farmers, or Fedegan, said.
"As long as we can't control the contraband of animals from Venezuela, the U.S. is going to keep the market closed," Fedegan's head of planning Oscar Cubillos said in an interview on Feb. 27 in Bogota. "Colombia is free of foot and mouth, but the U.S. has no guarantee that animals from Venezuela won't end up in their market, posing a risk to their public."
Cattle cross the border in both directions in a so-called "merry-go-round" to take advantage of Venezuela's system of multiple exchange rates, Cubillos said. Venezuela imports cattle legally at the exchange rate of 6.3 bolivars per dollar that it uses for priority imports. Once a cow has been imported, it is more lucrative to smuggle it back into Colombia at the unofficial exchange rate of more than 220 per dollar, rather than sell it locally at prices set by Venezuela's socialist government.
The U.S. Department of Agriculture's Animal and Plant Health Inspection Service said Monday in an e-mailed reply to questions that "smuggled cattle from Venezuela is an issue" in Colombia's bid to be recognized as free of foot and mouth disease. A free-trade agreement between Colombia and the U.S. took effect in 2012.
Curbing cattle disease is a low priority in Venezuela, as the nation struggles with other problems, Cubillos said.
Wholesale beef prices on the Chicago Mercantile Exchange have risen 65 percent over the last four years, and touched a record high of $2.64 a pound in January.
Colombia will also need to improve sanitary conditions and refrigeration at its slaughter houses, and improve levels of animal welfare, to be able to export its beef to more markets, Cubillos said.
"The U.S., Canada, Chile and the European Union are all open via free-trade agreements, and we're not exporting to any of these markets," Cubillos said.