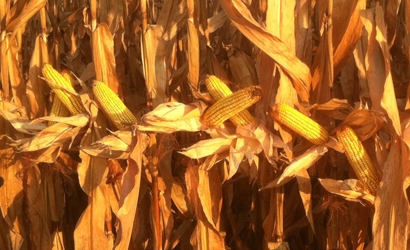 Just how big is the 2014 corn crop? More than 1,100 farmers share their estimates for corn yields via a recent Farm Journal Pulse.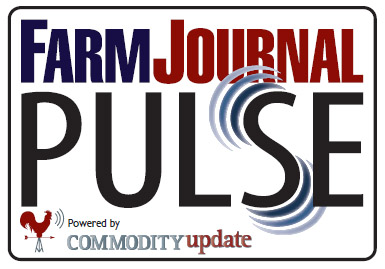 Harvest is kicking off in several corners of the country. As of Sept. 14, USDA estimates 4% of the U.S. corn crop has been harvested. The five-year average for this time of the year is 9%. Texas and North Carolina farmers have passed the 50% complete mark, while Tennessee, Kentucky and Kansas farmers are around 20% complete.
How high will this year's corn crop yield? The Sept. 3 Farm Journal Pulse asked: What do estimate the average corn yield to be this year on your farm? Nearly half of the 1,100 respondents predict an average corn yield between 150 and 199 bu./acre, while 20% expect an average yield of 200 bu. or more.
 
Here are the full results:
0 to 10 bu./acre: 2%
11 to 49 bu./acre: 2%
50 to 99 bu./acre: 8%
100 to 149 bu./acre: 23%
150 to 199 bu./acre: 47%
200 bu. or more: 20%
1,100 respondents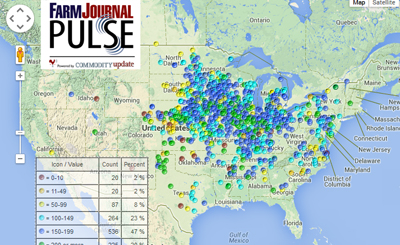 As of September, USDA is forecasting an average national yield of 171.7 bu./acre. In 2013, the average national yield was 158.8 bu./acre.
How will your yields shake out this fall? Submit your report to AgWeb Crop Comments.
 
Add Your Vote
You're invited to be part of the heartbeat of our new national producer panel that speaks up and speaks out. Participating is as easy as answering two quick poll questions per month via text message from your mobile phone.
By partnering with
Commodity Update
, the leading provider of agricultural information to mobile phones, Farm Journal sends you the question via a text message on the first and third Wednesday of each month.