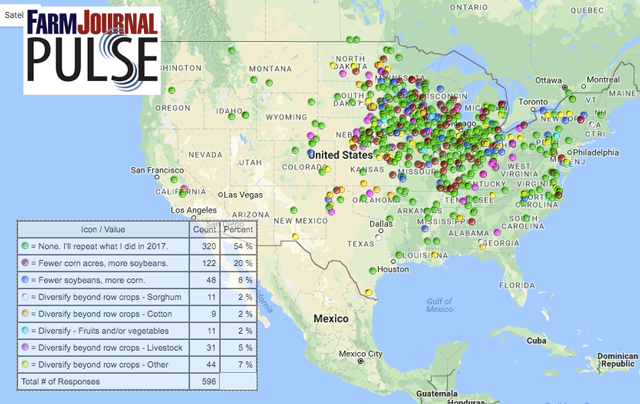 As farmers look for ways to improve their profitability in 2018, one of the areas many are evaluating is their crop mix. The question of whether farmers will make crop changes this year was asked in a Farm Journal PULSE survey conducted earlier this month.
Of the 596 farmers who responded to the question, roughly half (54%) said they will continue what they did in 2017. Of farmers who said they plan to make a change, the most common response (20%) was that they will plant fewer corn acres and more soybeans. On the flip side, 8% of respondents said they will plant fewer soybeans and more corn.
Only 6% of respondents said they plan to branch out and diversify beyond their current crop mix this year, with cotton, sorghum and fruits/vegetables each garnering 2% of the responses. Seven percent of respondents selected "other" as their answer, indicating that they plan to diversify beyond row crops, cotton, sorghum and fruits/vegetables.
Five percent of respondents shared that they plan to add livestock or expand the amount of livestock on their farming operation this year, a decision that reflects the profits in beef, dairy, pork and poultry that some producers were able to capture this past year.
For a complete overview of farmers' responses to the survey, check out the chart and map provided below. While farmers' responses to PULSE are shared anonymously via text, the map highlights the area from which each person's response originated.
The Farm Journal Pulse polls farmers and ranchers for their straight-from-the-farm opinions and crop progress updates twice each month. To participate, text the word PULSE to 31313*.  If you have suggestions of questions you'd like us to ask the national panel, e-mail FJPulse@farmjournal.com.