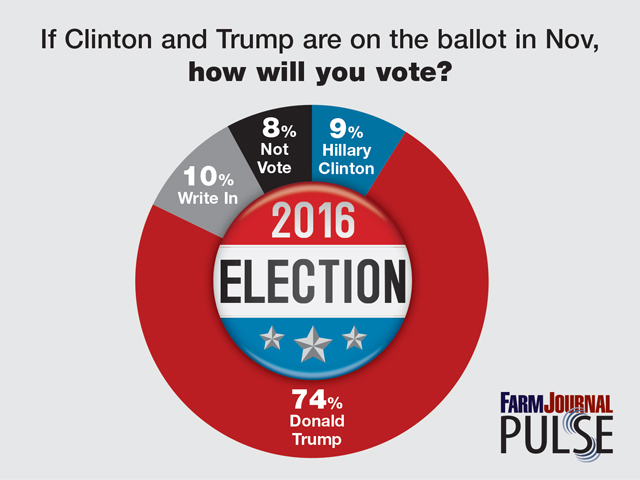 After Ted Cruz and John Kasich abandoned their presidential campaigns earlier this week, it has become increasingly certain that the 2016 election will come down to Hillary Clinton and Donald Trump.
Who does farm country favor? The latest Farm Journal Pulse wanted to know. More than 2,000 farmers weighed in on the hot-button issue with the highest Pulse response rate to-date. The results have Trump winning in a landslide, but the data reveals some other interesting insights.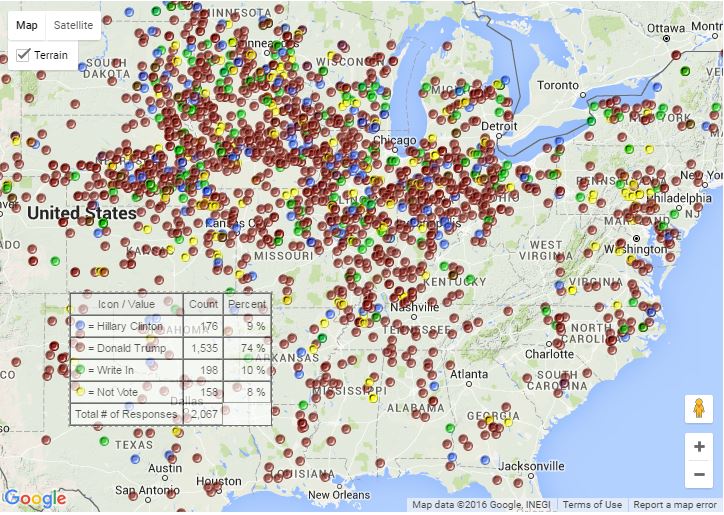 Trump nabs 74% of the farmer vote in this poll, with the remaining slices of the pie fairly divided between:
Write-in votes for a third candidate – 10%
Hillary Clinton – 9%
Would not vote – 8%
Are the relatively high volume of write-in and no votes correlated to the relatively high unfavorable ratings of both candidates? According to recent data from Real Clear Politics, Clinton has a 54.9% unfavorable rate, while Trump surpasses that with a 65.4% unfavorable rate.
What do the candidates have to say about the agriculture industry and rural America? The New York Times reported in 2015 that Clinton supports clean energy initiatives, expanded rural broadband access and immigration reform designed to help the agricultural work force. Meanwhile, Trump has attacked other Republican candidates for their stances against ethanol mandates and subsidies, according to the American Conservative, which also accused Trump of being in "the pocket of Big Ag."
The Pulse results do not match up against polling of the general public. A CNN/ORC poll released May 4 has Clinton up 13 points over Trump, 54 to 41.
Similar Pulse polls were conducted in 2012. In August of that year, 74% of respondents said they expected Mitt Romney to win the election, and in October, 85% indicated they would vote for Romney in the 2012 election. President Barack Obama won 51.1% of the popular vote and 332 electoral votes in that election.
Trump has defied expectations for most of his candidacy – will he be able to charge through the general election with the same bravado? Will Clinton take up the mantle as the nation's first female president? Either way, this election could shape up to be one of the most dramatic and profound in recent memory. 
AgWeb encourages lively, constructive discussion on our site, but ask that users remain civil when commenting. Comments insulting any person or groups of people are not permitted on this site, and will be removed as they are discovered.