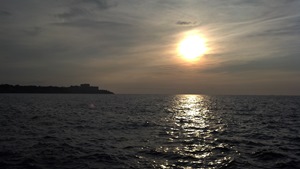 They also warn there's no quick fix to the phosphorus issue.
Jack Fisher, executive vice president of the Ohio Farm Bureau, knows that farmers must be involved in any plan to address the Lake Erie water crisis that shut down Toledo's taps for two days in August.
"We are fully admitting we are part of the situation here," Fisher said on AgriTalk this week during a panel discussion with Laura Moody of the Fertilizer Institute and Dean Lemke of the Agribusiness Association of Iowa. "We are causing some of the nutrient runoff here, and we are committed to do everything to fix it."
Runoff from agriculture, laws, yards, and more has resulted in high levels of dissolved phosphorus in Lake Erie, allowing toxic blue-green algae to thrive and threatening nearby cities' drinking water.
But Fisher also warned that reducing the amount of phosphorus won't happen overnight. Properly addressing the issue will require a mix of research, best practices, and education for farmers and the general public. "This is not a short-term fix," he said.
His fellow panelist Moody agreed. "This is something that takes decades," she said.
Listen to the full discussion here:
Part of the challenge is the size and scope of the agricultural community, whose farms vary in size, operations, and resources. That also made the panelists skeptical that greater regulation of farmers and runoff would result in better water quality in nearby lakes and rivers. "We have 88,000 farmers in Iowa alone," Lemke noted. "Do we really think the directives of command and control [that would come from regulation] will work at that scale?"
For Moody, the answer was no. "I think we really need to be careful not to mandate something that we may not know to be a clear-cut answer," she said.