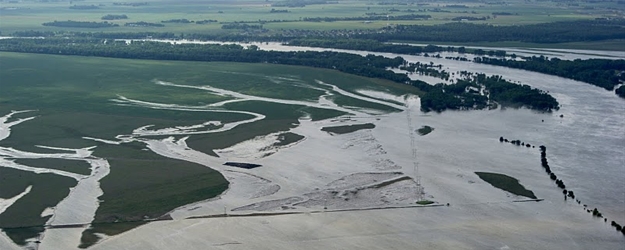 The physical scars to farmland, evidence of the Missouri River flood of 2011, still exist today.
The flooding is prompting more than 200 farmers and landowners from South Dakota to Missouri to file a federal lawsuit this month. The suit claims U.S. Army Corps of Engineers (USACE) violated the Fifth Amendment.
"The basis of our claim is that the U.S. Army Corps of Engineers, who's in charge of managing the Missouri River, is they made a decision to take our clients' land, either temporarily or permanently, in order to protect fish and wildlife and to restore fish and wildlife habitat," says Edwin H. Smith, a partner at Polsinelli PC, the lead law firm on the case. "And they knew when they did it, they were going to flood our clients' land."
He says it's similar to a new road cutting across a farm. When the government takes land for the public good, like he claims they did with recent floods, those land owners should be compensated.
Watch the full AgDay report:
We contacted the U.S. Army Corps of Engineers, and as expected, the agency isn't allowed to comment on pending litigation.
Smith says this lawsuit doesn't just deal with the damage that occurred in 2011. This all started in 2006 when the USACE changed its river management practices.
"Prior to that change, for six decades, the Corps of Engineers has managed the Missouri river under the Flood Control Act of 1944, providing maximum flood protection to the people in the Basin, in order to induce them, as Congress wanted when they passed that act, to live in the Missouri River Basin and invest in the Missouri River Basin," he says.
Smith believes that Act allowed 12 million people to settle in the area, generating billions of dollars in revenue. He says in that time, the USACE made the main channel deeper, to allow the water to flow downstream instead of pushing against the banks. But in 2006, he claims it all changed.
"They built those structures to control flooding, and now they're taking them out, letting them degrade, and they're making changes in those flow structure that's allowing this flooding," Smith explains.
And while Polsinelli PC claims more flooding is now occurring because of that change, that's not the basis of this lawsuit.
"We are not suing the Corps for mismanagement, negligence or wrong doing," says Smith.
Smith says the firm's focus is compensating the more than 200 farmers who have signed on for what's been lost.
The Department of Justice is representing the USACE, and Smith expects them to file a motion to dismiss within 60 days.
"We're quite confident, given our experts and research that we can survive a motion to dismiss and we'll then proceed to discovery," says Smith.
He says it's a complicated process that will take time. He doesn't expect a verdict to be reached for another three to five years.