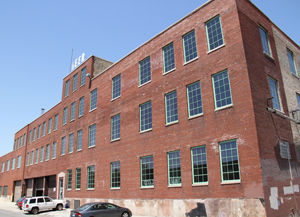 A former Chicago packing plant is given a second chance to provide food
John Edel is a farmer at heart. But instead of being inspired by a barren field that can be cultivated and produce 200-bu. corn, Edel sees abandoned buildings that can be recycled and refurnished to produce heaps of food.
Edel, a lifelong Chicagoan, is the founder and executive director of The Plant, an evolving vertical farm housed in an old meatpacking plant in Chicago's once-booming Union Stock Yards.
In 2010, the outside of The Plant looked like your typical abandoned building, a structural remnant of industrial success. Edel purchased the building and gave it a whole new life.
John Edel is founder and
executive director of
The Plant,
Chicago's first vertical farm.
---
While still a work in progress, today The Plant serves as an example of how quality food can be grown indoors. "We're trying to provide a model to the local community that you can grow tons of food, without much," Edel says. "We're combining education, farming and food business incubation all in one building."
Edel says one-third of the 93,500-sq.-ft. space will be used for farming operations, such as fish, vegetables, herbs and mushrooms. Another third will belong to food businesses, such as bakeries and breweries. The rest of the building will be common areas, office space and classrooms for
educational programs.
Currently the building has seven tenants, which range from companies specializing in aquaponics and tea brewing to bakeries selling artisan bread and meat pies.
Waste Not, Want Not. Edel says a common complaint about vertical farming is the amount of energy needed to grow plants indoors, but The Plant will produce its own energy needs.
Most of the energy will be produced with an anaerobic digester, which takes in food waste and produces methane. Methane will be the building's heat and power energy source. Edel says he won't disconnect from the public electrical grid, but hopes he won't have to use it.
The other main power contributor is volunteers. The Plant employs only a handful of people; the rest of the work is done by volunteers. When the farm and building are fully functional, Edel says, it will employ around 125 people. "We are creating jobs in a neighborhood that needs jobs."
Closing the Loop
Mario Spatafora is cofounder of 312 Aquaponics, which is one of the businesses in The Plant. The operation produces fish and vegetables with a closed-loop system. Spatafora says he is working to make his system smaller for use in restaurants or apartments. "We're trying to minimize our technology into the most efficient form so that any chef in Chicago can grow his own fresh herbs or microgreens, instead of having them shipped in from California."
To take a virtual tour of The Plant: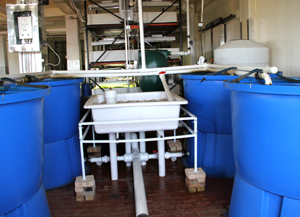 1. Large fish tanks contain water and tilapia. As the fish grow, the water and their waste flow by gravity through a filtration system, where the solid waste is removed.
---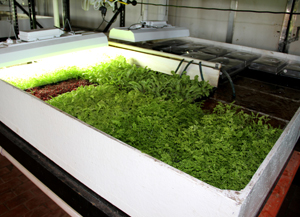 2. The filtered water is then pumped through grow beds that contain herbs, small vegetables or greens. The plants consume the nutrients from the water.
---
3. While the plants consume the nutrients, the water is also filtered and then returned to the fish.
---