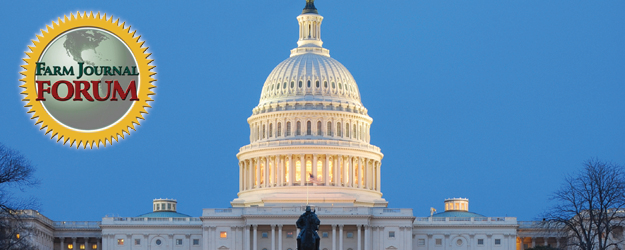 Data will drive productivity gains and efficient resource use
His demeanor might be calm, but Michael K. Stern sees the global challenges facing agriculture today in rather dramatic terms, given the trends in population growth, the need for food and the reduction in land suitable for farming. 

"They are going to force us to make some choices," said Stern, the president and COO of The Climate Corporation, at the Farm Journal Forum in December. "We can choose to go ahead and deforest the rain forest … and bring less productive land into the market around the world, with the environmental consequences associated with that."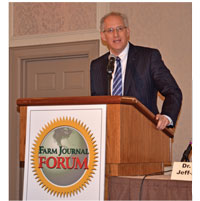 Precise data is key to increasing production on our current land base, said Michael Stern, COO, The Climate Corp., at the Farm Journal Forum.
Or, he offered, "we are going to have to make decisions about how we continue to find ways to be more productive in the footprint that we have. I am a firm believer that the data science platform and the data revolution that we are in the midst of is going to be the key element driving more efficient use of land, productivity and use of natural resources." 

To Stern, who previously oversaw Monsanto Company's row crop business, the integration of data into farm operations has clear benefits. 
"It's going to give farmers an advantage over the variability they see in the their field," Stern said. "We have to bring more data into it."

At The Climate Corp., that data includes information and observations from the soil, field and atmosphere, which are then run through the company's algorithms. 

"The Climate Corp. isn't predicting the weather," Stern explained. "It's about understanding what is happening in the field in real time and using that knowledge within our models to drive insights and decisions that can be proactively made by a grower."

Depending on the data available and the sophistication of the analysis, those advance decisions could one day be very specific. For example, a farmer might be able to monitor and proactively treat just one corner of a corn field for a fungal disease based on temperature, seed and other data. 

That type of precise, resource-efficient (and cost-effective) farming will be essential in the years to come, Stern said, given the reality of a growing population and a changing climate. 

"Over the next five years, 90% of additional corn production is going to have to come from increased yield on the same acre of land," Stern said. "Over the next five years, 85% of additional soybean production is going to have to come from increased yield on the same acre of land."

Those sobering forecasts mean farmers will have to double productivity gains of the past five years in corn and increase the productivity gains in soybeans by five times, Stern said.
Thankfully, the cost to gather and store farm data is plummeting while the ability to collect data soars. "In the past 10 years, the computing power capability has gone up 32%. Wireless data transmission is cheaper—a 75% drop in price in the past four years," Stern said. "There has been a 97% drop in the cost of storage [of data] over the past 10 years."

In farm economics, the cost is much lower than it was. "On a typical acre of land today, a grower will generate about 7 GB of data," Stern said. "In 1990, to store that information would have cost $45,000 per gigabyte. 
Today, it costs 4¢—28¢ an acre—and it's going down." 

The Forum was made possible by support from premier sponsor Monsanto Company, supporting sponsors DuPont and Verdesian, media partner GW Planet Forward and Connect partner CropLife America.
For more news and highlights from the Farm Journal Forum, visit www.FarmJournal.com/Forum