You can find both good news and bad news in the latest report from the Federal Reserve Bank of Chicago.
The upside for farmers? Farmland values are steady. Agricultural land values for the Seventh Federal Reserve District, which includes the northern two-thirds of Illinois, Indiana, Iowa, the lower peninsula of Michigan and southeastern Wisconsin, are down a mere 1% in the second quarter of 2019 compared to a year ago. 
In comparing the second quarter of 2019 to the first quarter, land values are unchanged. Yet, that year-over-year decrease of 1% is the first such decline since the third quarter of 2017. 
Iowa and Michigan had year-over-year dips in their farmland values, but Illinois, Indiana, and Wisconsin farmland values held steady.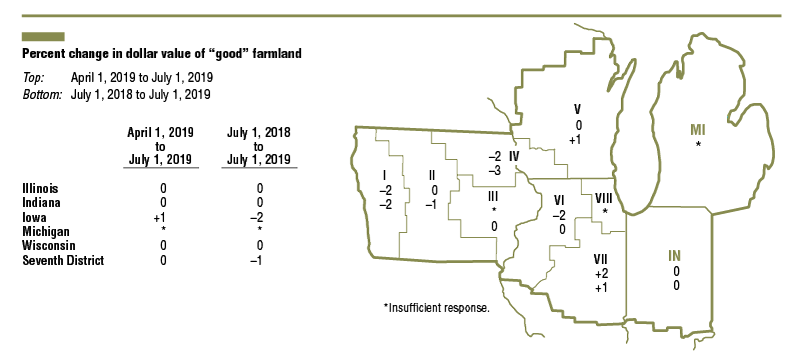 Year-over-year real changes in Seventh District farmland values, by quarter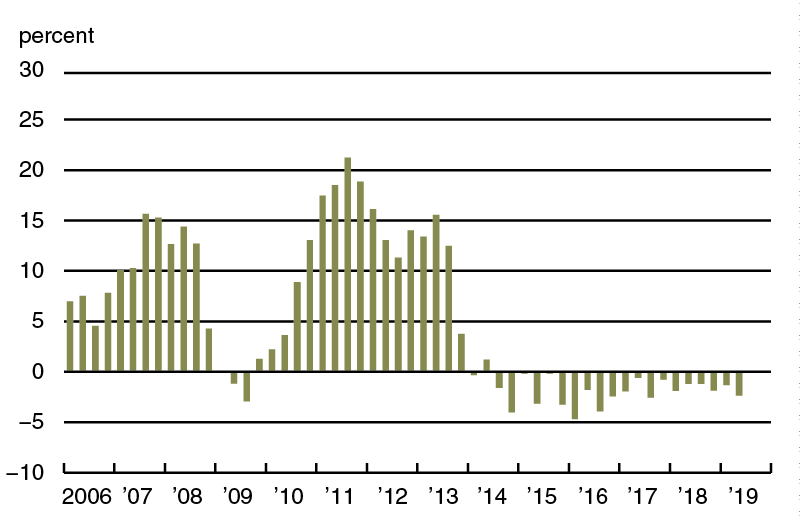 Sources: Author's calculations based on data from Federal Reserve Bank of Chicago surveys of farmland values; and U.S. Bureau of Economic Analysis, Personal Consumption Expenditures Price Index (PCEPI), from Haver Analytics.
---
Now for the bad news. Farmers' financial positions continue to deteriorate. 
"The Midwest agricultural producers have been struggling with income issues, and that's led to a deterioration of credit conditions," says David Oppedahl, senior business economist for the region. "As you look at their balance sheets, they are not in as good of position financially, and this is leading to repayment problems."
Agricultural credit conditions in the second quarter of 2019 deteriorated relative to a year earlier, continuing a pattern going back to the fourth quarter of 2013. Overall, repayment rates for non-real-estate farm loans were lower in the second quarter of 2019 compared with a year ago. 
For loan repayments, 7% of bankers noted higher rates of repayment issues than a year ago and 33% noted lower rates. At 6.2% of the District loan portfolio, the share of farm loans with "major" or "severe" repayment problems was last higher in 1999 (as measured in the second quarter of every year). Also, renewals and extensions of non-real-estate farm loans during the April through June period of 2019 were higher than during the same period of a year ago.
Here are a few of the clues about the unsteady financial picture for farmers:
Over the first half of 2019, District banks made a higher-than-normal amount of farm operating loans, but a lower-than-normal amount of agricultural real estate loans. 
In the first six months of 2019, merchants, dealers, and other input suppliers reportedly expanded their agricultural lending. 
Credit tightening continued unabated in the second quarter of 2019, as 25% of the survey respondents reported that their banks required larger amounts of collateral than a year ago and none reported that their banks required smaller amounts. 
An Iowa respondent noted that "farmers are more optimistic with the recent surge in prices and the government payments." Crop conditions in Iowa were looking much better than those in Illinois, Indiana, and Michigan, which may help explain the positive commentary. 
In contrast, an Illinois banker reported that the uncertainty surrounding how much smaller this year's harvest will be compared with last year's (along with the associated price responses) "has everybody in wait-and-see mode."
What's Ahead for Land Values?
Even with crop output expected to fall, most survey respondents anticipated District farmland values would be stable in the short term, as 83% of responding bankers projected no change in farmland values for the third quarter of 2019 (15% projected them to decrease, while only 2% projected them to increase). 
Survey respondents projected volumes of non-real-estate farm loans (notably, operating loans and loans guaranteed by the Farm Service Agency of the USDA) to increase in the third quarter of 2019 from year-earlier levels; however, they projected the volume of farm real estate loans to decrease.
"The overwhelming message for farmers is that we're under stress, and it's helpful the government is providing some extra assistance," Oppedahl says. "But at the same time, it is a very challenging environment. 

Read More
Trade War Stifles the Rural Economy
Stable Farmland Values Could Support Weak Farm Economy
Midwest and Mid-South: Farmland Values Up, Farm Income Down