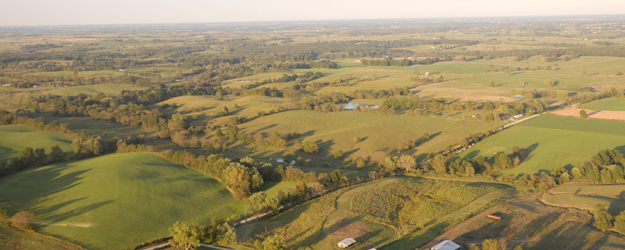 The value of Corn Belt farmland shot up 16% in 2012 and is expected to rise further.
Central Corn Belt farmland values are continue to surpass expectations. According to a quarterly survey of more than 200 agricultural bankers conducted by the Federal Reserve Bank of Chicago, the yearly increase in "good" farmland values was 16% in 2012.
"In spite of the drought last year, the annual increase for 2012 was just a notch below those of 2007 and 2011," says David Oppedahl, Federal Reserve Bank of Chicago business economist. "On the whole, respondents anticipated farmland values to rise further during the January through March period of 2013."
The Federal Reserve Bank of Chicago serves the northern two-thirds of Illinois and Indiana, all of Iowa, the lower peninsula of Michigan and southeastern Wisconsin.
From Jan. 1, 2012 to Jan. 1, 2013, Iowa was the winner in the highest percentage annual increase. The state's farmland showed an increase of 20% in the past year. Illinois and Michigan both registered 18% annual gains. Wisconsin's farmland values increased by 11% and Indiana listed a 10% increase.
2012 marked the third consecutive year of momentous jumps in agricultural land values. From 2010 to 2012, the area's farmland values showed a cumulative rise of 52%, which matches the fastest gain of the 1970s boom, in real terms. After adjusting for inflation, the District's 2012 annual increase in agricultural land values (14%) was the third largest in 35 years.
For now, the sky is the limit for farmland values. Oppedahl says 43% of the responding bankers anticipate higher levels of land purchases or improvements in 2013. "With USDA predicting net farm income to rise 14% from 2012 to $128.2 billion in 2013, there would seem to be at least another leg to be run as farmland values continue their upward race."
Recovery from the drought will remain a key factor in 2013, Oppedahl says,. Even though drought conditions have diminished in the District, changes from last year's drought-influenced crop prices will affect both crop farmers and livestock producers.
Read the Chicago Fed's Latest Edition of its AgLetter: Midwest Farmland Values Continue to Surge
---