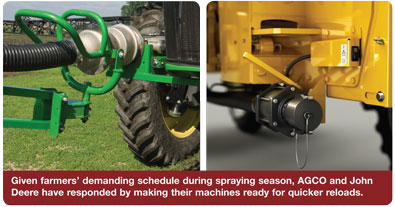 During the busyness of spraying season, fill time equals downtime. Loading self-propelled sprayers from the front can top off the tank faster and get you back in the field.

Two manufacturers have outfitted machines for faster fill time. AGCO's RoGator sprayers have an optional reload station up-front, and John Deere's 4930 Series sprayers have an optional front reload with automated fill system.

"We have features that are about productivity," says David Webster, director of sales for the AGCO Application Equipment Division. "We have cabs designed for application (a six-post design with panoramic view and triple-filtered air), it takes less time to fold up our booms and we have lower reload times—our tanks can be filled in just over five minutes. Those things are really important to our core customer base."

AGCO's new RoGator lineup features increased capacities, as well, with 900-, 1,100- and 1,300-gal. liquid systems and more horsepower. The machines are built with a new front entry design that allows for an optional front reload station. The optional front-fill liquid system does not require the operator to fold in spray booms in order to reload.

With its 2010 model year 4930 sprayers, John Deere offers a complete tendering system called Load Command. It can fill a 1,200-gal. tank in about three minutes, compared with conventional fill times of 12 to 15 minutes.

"In designing this system, we consid-ered all the tasks that can slow down the operator during the reload process," says Craig Weynand, product marketing manager, John Deere Des Moines Works. "To speed up the loading process itself, we replaced the traditional 3" hoses and pump with a 4" hose and ultrahigh-volume, self-priming, on-board pump."

John Deere also added a tender arm system that swings the fill line to the machine and a coupling system with sensors that allows the machine to automatically couple itself with the fill line. The sensors in the solution tank engage the fill process while the
operator remains in the cab or adds chemical. The coupling releases automatically when the tank is full so the operator can drive away.

"This productivity enhancement allows for an additional 200 to 400 acres per day," Weynand adds.
---

Machinery Minute: Make Your Sprayer Refills Faster


---
You can e-mail Margy Fischer at mfischer@farmjournal.com.