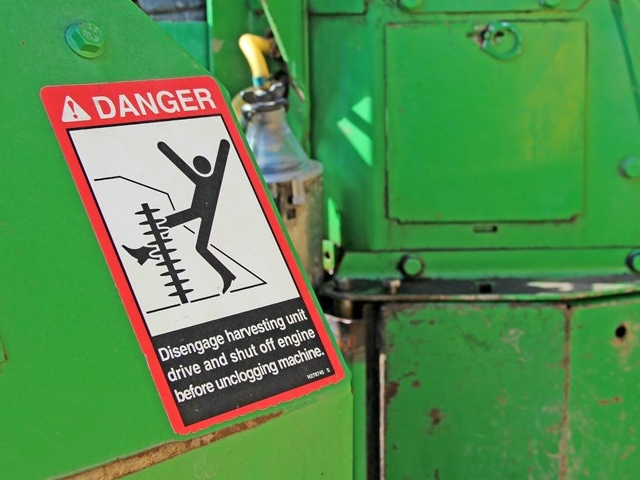 Farmers over the age of 60 also see fatalities rise, says new report 
The distance from combine to coffin varies each year in agriculture, but the overall hazards of farming are a numbing constant. A new report on Indiana farm fatalities in 2015 points to the possible emergence of nationwide trends: A decline in incidents involving children, an increase in the average age of victims and a marked jump in the deaths of hobby farmers.

A total of 28 farm-related deaths were recorded in the Hoosier state in 2015, almost a match with the state average of 29.7 since 1970. However, the total is a marked increase compared with the past 10-year average of 22 farm-related deaths. 

Bill Field, a professor of agricultural health and safety at Purdue University, and author of the 2015 Indiana Farm Fatality Summary with Historical Overview report, believes bedrock farming changes are beginning to surface in fatality statistics.
The average age of an Indiana producer is 58. However, more than 50% of fatal accidents in 2015 involved farmers over the age of 60, an age bracket where hearing, vision and reaction are typically diminished. 

"A growing number of my friends are on social security but still work for their sons at planting or harvest for cash or gas for the pickup," Field says.
Going against almost all other industry currents, farming retirements exist only on paper, echoes Charles Schwab, a professor of agricultural and biosystems engineering at Iowa State University. "Farmers keep working at some level and you see these injuries mount. We've recorded so many farm injuries with 70- and 80-year-olds and that makes agriculture so different."

Conversely, historical on-operation time has shrunk for farm kids, and in the 1 to 17 age category, only one Indiana child died in an ATV-related farm accident in 2015. During the past five years, fatalities involving children have dropped from a seven-per-year average to less than one. 

Field says social shifts and a change in equipment size might be a factor: "Family farms continue to shrink, kids spend less time on farm chores and machinery has grown so expensive and complex that kids don't just hop on and operate a particular vehicle."

Part-time farmers make up another emerging trend. Since 2013, Field has recorded fatalities of doctors, bankers, lawyers and law enforcement officers who all bought farms as an avocation. 

"Over the last four years, very few large-scale farmers were killed, but the hobby farmer numbers are climbing," he says. "They get hurt in accidents with older equipment."

Older equipment is always a core element of farm accident totals and 2015 was no different, with 39% of fatalities related to tractor accidents, almost all from rollovers. (Tractors manufactured before 1985 weren't subject to ROPS regulations.)

Indiana's Amish population accounts for a disproportionate number of farm fatalities—in some years, one-third of the state's deaths. The majority of Amish accidents are livestock-related.
Indiana has 59,000 farms and a death rate of 19.6 per 100,000 farm workers. U.S. Bureau of Labor 2014 statistics estimate the death rate at 24.9 per 100,000 farm workers nationwide, and 3.3 per 100,000 workers in all industries combined. 

Field estimates one in nine Indiana farms experienced an injury requiring medical attention in 2015. "Extrapolated out, that's 6,555 injuries for families with traditionally poor medical coverage," he says. 

Field says the report's statistics are a good indication of what's happening around the nation. "The highest risk is to older, retired farmers, and that applies to any state. Also, hobby farmers are a big accident risk," Field adds. "I fear part-timers, because of age or hobby, will become an increasingly bigger part of these statistics."