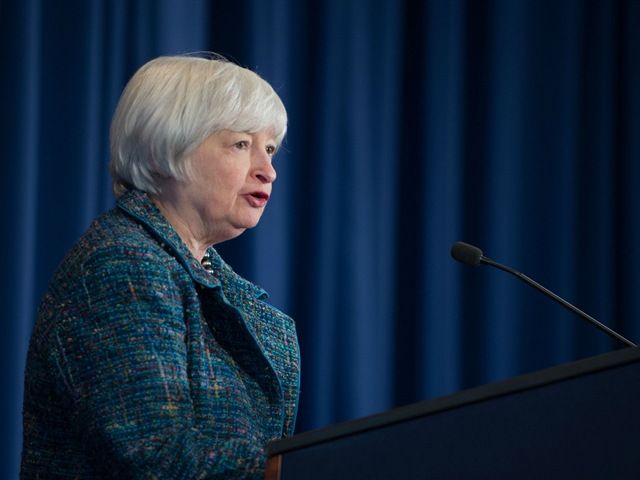 Here's what to look for when the Federal Open Market Committee releases its policy statement at 2 p.m. Wednesday in Washington following a two-day meeting.
September signal: While economists in a Bloomberg survey saw virtually no chance of an interest-rate rise this week, investors will scrutinize the statement for any hint that policy makers are inclined to move in September. The odds of an increase at that meeting were put at 50 percent, according to the survey.

"The only reason July is important is because it's in front of September," said Drew Matus, deputy chief U.S. economist for UBS Securities LLC in New York, who previously worked at the Fed. "The story is, how far are they willing to go" to communicate that this week, he said.
At their last session in June, Fed officials' updated quarterly forecasts indicated that two rate increases this year would be appropriate, based on the median projection of 17 committee members.
Dissents: A vote from Richmond Fed President Jeffrey Lacker in favor of raising rates could be an indication of a broader desire among FOMC participants to move off zero, according to Michael Feroli, chief U.S. economist at JPMorgan Chase & Co. in New York.
"Lacker is a hawk but not extreme in his views -- after all, he has held off on dissenting thus far all year," Feroli said. If Lacker votes against this week's decision, as Feroli predicts, "it would probably signal that the disenchantment would spread to the center if we get to September or October and they still haven't hiked." The Fed hasn't raised its benchmark rate since 2006.
Fed Chair Janet Yellen said in testimony to Congress on July 15 that if the economy continues to evolve as policy makers expect, that "likely would make it appropriate at some point this year" to raise the benchmark federal funds rate, which has been held near zero since 2008.
Labor market: Better, yet still not good enough, will be the FOMC's position, even though unemployment at 5.3 percent is close to what participants see as normal, said Allen Sinai, chief executive officer of Decision Economics Inc. in New York.
"The labor market is improving but we are not at full employment," Sinai said. "The message is, we are not quite there."
Yellen said in her testimony that while most labor measures are "trending in the right direction," a low participation rate indicates "too many people are not searching for a job but would likely do so if the labor market was stronger." Wage growth has shown signs of picking up while still being consistent with labor-market slack, she said.
Inflation and commodities: The FOMC may place more emphasis on inflation excluding food and energy prices after oil and other commodities fell in recent weeks, said Terry Sheehan, an economic analyst at Stone & McCarthy Research Associates in Princeton, New Jersey.
"Inflation continued to run below the Committee's longer- run objective, partly reflecting earlier declines in energy prices and decreasing prices of non-energy imports; energy prices appear to have stabilized," the FOMC said in June. The Fed aims for 2 percent inflation.
The price of West Texas Intermediate crude oil has fallen about 20 percent since then, and the Bloomberg Commodity Index, a broader measure of commodity prices, has dropped about 8 percent.
Even with changes, the language will be "very similar" to the June statement, Sheehan said.
Balance of risks: One way the statement could convey a committee getting closer to liftoff is a change in the wording on the balance of risks, said Jonathan Wright, a professor at Johns Hopkins University in Baltimore and a former economist at the Fed's Division of Monetary Affairs.
In the statement issued after its June 16-17 meeting, the FOMC said it continued to "see the risks to the outlook for economic activity and the labor market as nearly balanced."
The committee could remove the word "nearly" from that sentence if it wants to signal it's getting closer to action, Wright said.