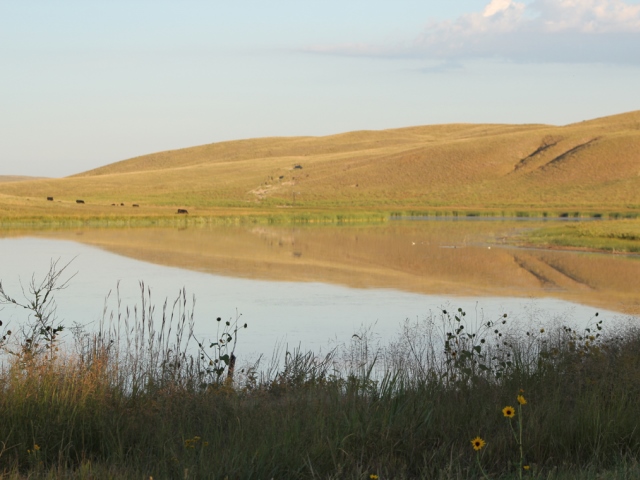 So you thought the revocation of the Obama administration's onerous rewrite of the Clean Water Act (WOTUS) preserved your property rights. Think again. The water posse from the Environmental Protection Agency (EPA) and Army Corps of Engineers (Corps) is still out there and as active as ever. 
Note what happened to an Ogle County, Ill., farmer who wanted to do the right thing and reduce soil erosion on his farmland by implementing various soil conservation practices. The farmer consulted with USDA's Natural Resources Conservation Service (NRCS) and then proceeded to install the approved conservation program, including installing grass water. He finished installing the waterways in March.
All good, right? No.
Shortly after completing the installation the water posse from the EPA and Corps showed up on his farm. The double-teaming bureaucrats alleged he violated the Clean Water Act (CWA) by not obtaining the necessary permits to do the work approved by NRCS.
Result: The landowner is caught in the legal crosshairs of multiple bureaucracies each with its own differing objectives and rules.
Apparently this farmer is not the only landowner to experience this bureaucratic squeeze. The Illinois Farm Bureau reports hearing of several similar cases in other Corps districts in Illinois.
Making Matters Worse. Farmers, landowners, soil conservationists and soil researchers know grass waterways are scientifically proven to improve water quality and reduce soil runoff. Apparently the water posse from EPA and the Corps are unaware of this research. But wait, there is more.
Waterways are not continuously running streams or bodies of water subject to the CWA. They flow only when there is heavy rain, which does not fit under the definition of regulator authority under the CWA.
The waterways were installed on cropland, which is also not included in any definition of waters of the U.S. under the CWA.
Additionally, the installation of waterways falls under the definition of conservation practices included in the definition of "normal farming practices." By law normal farming practices are exempt from CWA permitting requirements.
Thanks to the Illinois Farm Bureau and FarmWeek's Deana Stroisch for bringing this issue to our attention.
Auction Action. Two large auctions in Oregon and Texas will test their respective markets.
First up is the sealed-bid auction of 6,000 acres in Walla Walla County, Washington. The property is currently in row crop production with water rights allowing 1,280 irrigated acres under center pivot as well as sprinkler irrigation for 355 acres.
The property is unique due to its potential for permanent crops such as grapes, apples, blueberries and hops. Sealed bids are due Nov. 10. Steve Bruere, Peoples Company, Clive, Iowa, is handling the auction.
On Nov. 14, nearly 12,000 acres owned by NRG Energy of Houston will be auctioned. The property is located in Henderson and Anderson counties, southeast of Dallas and west of Tyler. The ground has been in NRG Energy's hands since the 1980s. A total of 16 tracts, ranging in size from 1.2 to 2,104 acres will be offered. More than 2,500 acres are tillable cropland with remaining land in native grasses and improved coastal Bermuda pastures. Scott Shuman of Hall and Hall, Eaton, Colo., is handling the auction.
Why We're Bullish on Farmland Long Term. Every day another 250,000 people graduate from extreme poverty, according to the World Bank. In addition, about 300,000 get electricity for the first time. And some 285,000 people get their first access to clean drinking water.
This is good news!
Hooray for the people who are seeing improvements in their lives. And it means there is a constantly growing number of people who are gaining the ability to buy protein and improve their diet.
That translates into demand for what farmland produces and for the farmland itself. 
More land news is included in every issue of LandOwner Newsletter. Try it free here.