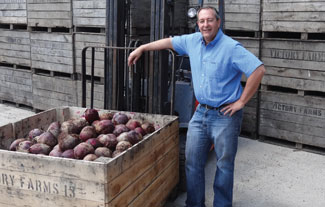 By Deborah R. Huso
Producers weigh labor options in light of new insurance rules
Michigan producer Roger Victory knows a lot about the Affordable Care Act (ACA)—perhaps more than he ever wanted to know. Victory farms 1,300 acres in Ottawa County, raising corn and winter wheat as well as specialty produce such as turnips, winter squash, parsnips and beets. He runs a packing facility with about 20 full-time employees, and at harvest, he has as many as 80 employees working long hours.
"It's disheartening how the ACA defines full-time equivalent employee," says Victory, pointing out that the federal health care law defines the term as someone who works at least 30 hours during the week. "In our industry, we have a long work week for seasonals, December through March and August into November."

Health care remains a concern for producers because the federal law's employer-shared responsibility provisions takes effect in 2015. As the transition relief period shortens, farmers such as Victory are navigating how to comply.  

In his case, the options don't look promising. Although Victory has never offered health insurance to employees, the health care law's definition likely means he will either have to start providing it to avoid penalties or lay off workers and cut production to stay under the 50-employee threshold. 

Other producers face major changes with the health care law, too, though the effects differ from business to business.

"It's having an impact on various scales of farms," says Adam Kantrovich, Michigan State University Extension. "In general, a lot of smaller farms are not being impacted as employers but as self-employed." 

Whether the health care law positively or negatively affects an operation depends on the individual farm and the families who are affected.  

"One farmer I spoke with said he was now paying the same premium but getting more benefit," Kantrovich notes. "Another family facing a terminal illness was afraid they were going to have to sell off assets to pay for treatment, making the farm unsustainable for future generations. But now they have insurance that doesn't cut them out because of pre-existing conditions."

Who Qualifies? A number of mid-sized farms qualify as large operations under the health care law because they have 50 or more full-time equivalent employees on an annual monthly average, Kantrovich says. They must provide health insurance to employees or face penalties, increasing the annual cost of business anywhere from $15,000 to the low six figures. In other cases, farms that qualify as small businesses and that once provided health insurance can no longer afford the benefit with the minimum insurance standards required.

At the same time, row crop and livestock operations will fare better than others under the health care law because generally fewer workers are required. Those businesses will still qualify as small. In states such as California and Michigan, though, financial effects of the health care law might be more negative because produce farmers need more labor to plant seeds and harvest crops at the end of the growing season. 

Research indicates that overall lower insurance rates are found in states with their own health insurance exchanges or expanded Medicaid programs, says Jon Bailey, director of the Rural Policy Program at the Center for Rural Affairs.

But he cautions: "There aren't any general rules yet. Insurance is really individualized. People either really like what they have or they hate it."

Looking ahead, the tax implications for 2014 are relatively minor. Employers still have time to put new insurance plans into place. 

For producers who do not have insurance for themselves or their families, or who do not have insurance that meets minimum requirements, a $95-per-person penalty (half as much for dependent children) will be assessed for income of more than $10,150 up to $19,650. The penalty is 1% for income over $19,650 or $95, whichever is greater.  

Penalties will increase over the next three years. In 2016, that minimum penalty will grow to $695, and the income percentage penalty will rise to 2.5%. 
Bailey doesn't foresee major changes to the health care law following mid-term elections in November. Congress might adjust the medical device tax, but that's likely it. Kantrovich agrees.

"It's going to be difficult to make changes once individuals who did not have insurance—and are seeing positive benefit from it—face having those benefits pulled away," he says. Producers should learn about the law now and figure out how they're going to handle changes, Kantrovich advises.

In Michigan, Victory has delayed farm expansion to avoid being classified as a large employer. 

"If we had to pay for employees' insurance, our margins would be too tight," he explains. "We don't just compete with American producers. We also compete with Canada and Mexico." As part of labor-reduction efforts, Victory now produces 50% fewer turnips and beets. He has eliminated the production of ornamental corn on his operation, and snow peas are now picked with farm equipment rather than by hand.

"It's a sad commentary on operating a business," he says. "Once you get to a certain size, you're no longer competitive with this new law." 
For more information about how farm businesses can implement the Affordable Care Act, visit firm.msue.msu.edu/affordable_care_act_aca.